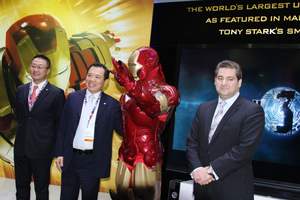 TCL in partnership with Marvel Entertainment for Iron Man 3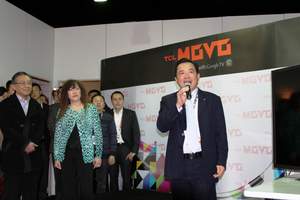 TCL Movo with Google TV 3.0 joint launch, Mr. Li Dongsheng and Ms. Weili Dai present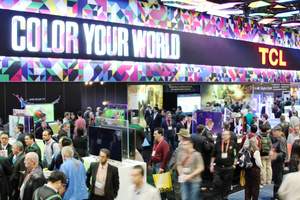 With the theme ''Color Your World'' thousands of visitors are attracted and amazed by TCL showcase



LAS VEGAS, NV -- (Marketwire) -- 01/09/13 -- TCL Corporation (HKSE: 2618), one of China's largest consumer electronics enterprises, is not only unveiling its full line-up of new smart cloud products, but also making two exciting press announcements at the CES show today. The first is TCL's partnership with Hollywood-based Marvel Entertainment in the next installment in Marvel Studio's blockbuster franchise. The second is the momentous launch of TCL MoVo with Google TV 3.0 -- the result of the successful collaboration between TCL, Marvell Semiconductor, Inc. and Google.

The partnership between TCL and Marvel for Marvel's Iron Man 3 will include brand integration and a tie-in promotion and will be announced at the event with Li Dong Sheng, Chairman and CEO of TCL Corporation and Bob Sabouni, the Executive Vice President of Worldwide Marketing Partnerships at Marvel Entertainment in attendance. TCL's role as the official global partner in Iron Man 3's marketing and channel promotion has become public, marking another milestone for TCL in entertainment marketing. With its 110-inch ultra-panel TV selected as "Tony Stark's smart TV choice" in Iron Man 3, TCL has once again seamlessly integrated its video and communication technology into the entertainment business.

The exclusive appearance of TCL's flagship product in the movie also represents the high international recognition TCL has achieved for its TV manufacturing and technological innovation, especially in the 3D smart cloud TV area. To date, TCL has achieved 15.2 million TV sets in annual sales volume, following closely behind Samsung and LG to set a new benchmark for the fast-rising China enterprises and signify TCL officially steps into the first camp of the global color TV industry.

Another momentous event at CES is the joint release of the latest TCL MoVo with Google TV 3.0. The development of the new product represents the powerful partnership between leading brands of different industries. Li Dongsheng and Weili Dai, Co-Founder of Marvell Semiconductor, attend to witness this exciting moment. With the introduction of this new product, TCL has once again kick-started a new trend in smart technology customization.