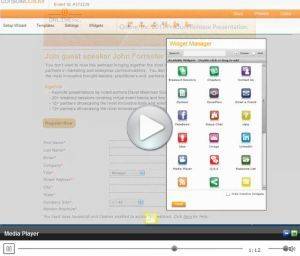 With Elite Presentations, the user uploads a PowerPoint deck, records or edits an audio track for each slide using just a telephone and web browser, and publishes to an interactive online video experience in minutes.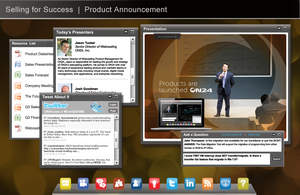 With ON24 Elite Presentations, any business user can create powerful interactive online presentations.



SAN FRANCISCO, CA -- (Marketwire) -- 01/09/13 -- ON24, Inc., the global leader in webcasting and virtual event solutions, today announced Elite Presentations, a new and easy way to create and deliver professional-quality interactive online presentations in just a few simple steps, right from the user's computer. Available now, Elite Presentations is designed to provide interactive multimedia content for applications such as marketing and training.

Elite Presentations is the latest addition to ON24's award-winning Webcast Elite family. "Creating online video presentations is a very time-consuming and difficult experience," said Jayesh Sahasi, ON24's Chief Product Officer. "Just as with Webcast Elite, which made high-end, full-featured webcasting accessible for the typical enterprise user, ON24 now aims to change the game for online video presentations. With Presentations, you upload a PowerPoint deck, record or edit an audio track for each slide using just your telephone and a web browser, and publish to an interactive online video experience in minutes."

Though it was launched just last year, hundreds of customers have already adopted Webcast Elite, making it the fastest growing product line in ON24 history. Current Webcast Elite customers include Google, Intuit, SAP, IBM, Rosetta Stone, GigaOM, Prudential Financial and Standard & Poor's. Over half of ON24's contracts for self-service webcasting are now Elite contracts, and those events represent 25% of the total number of self-service events run on the ON24 platform.

Elite Presentations is built on ON24's industry-leading Platform 10, the flexible ON24 virtual communications platform that supports extended interactivity, including social media sharing via Facebook and Twitter, and provides the ability to customize the individual experience. Platform 10's diverse and growing widget library provides enhanced functionality and, as a result, engagement. Another key feature of Elite Presentations is support for iOS and Android operating systems, enabling increasingly mobile end users to view presentations on popular smartphones and tablet computers.

"Elite Presentations, a powerful communications application for marketing and training departments, is incredibly easy to use, and the user experience for participants is unsurpassed," commented Sharat Sharan, CEO of ON24. "We are, in effect, redefining enterprise video, offering interactive, on-demand experiences using ON24 Platform 10 technology. With Elite Presentations, customers can deliver interactive content to thousands of viewers with the same reliability and scale that make ON24 the world's virtual communications leader."