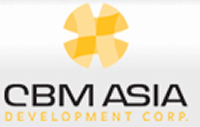 VANCOUVER, BRITISH COLUMBIA -- (Marketwire) -- 01/09/13 -- CBM Asia Development Corp. ("CBM Asia" or the "Company") (TSX VENTURE: TCF)(US: CBMDF)(FRANKFURT: IY2) wishes to clarify certain statements made in its news release of January 2, 2013 recapping its operations for 2012. The Company stated that based on recent acreage acquisitions and well testing it was increasing its target of establishing net recoverable gas from its existing acreage positions to 15 TCF (2.5 billion barrels of oil equivalent)(1). The Company wishes to clarify that such figure represents the Company's target goal and does not constitute an actual estimate of resources for its current acreage. Furthermore, such target should be expressed in terms of "recoverable unrisked prospective resources" rather than "net recoverable gas".

To date, the Company has commissioned two independent evaluations of its resource potential; the first for its Sekayu production sharing contract in South Sumatra, Indonesia (the "Sekayu PSC") and the second for the Kutai West PSC in East Kalimantan.

On November 2, 2011, the Company reported that Texas-based Netherland, Sewell & Associates, Inc. (NSAI) had prepared a resource assessment of the Sekayu PSC in accordance with Canadian National Instrument 51-101 ("NI 51-101") and the COGE Handbook as of September 30, 2011 as follows:


                                      Unrisked Gross (100%)                                Prospective Gas Resources (MMcf)                    --------------------------------------------------------Prospect                  Low Estimate      Best Estimate      High Estimate                    --------------------------------------------------------Sekayu Block                   319,051          1,061,983          2,056,266
The Company holds a 26% participating interest in the Sekayu PSC resulting in recoverable unrisked net prospective gas resources attributable to the Company's interest of 276,115 MMcf (best estimate), 82,953 MMcf (low estimate) and 534,629 MMcf (high estimate) as of September 30, 2011.
The second evaluation for the Kutai West PSC, also being prepared by NSAI, is expected to be available in the first quarter of 2013.
Where appropriate data is available, additional qualified independent resource estimates may be commissioned this year. The Company points out that its participating interest in the Sekayu PSC represents only a very small percentage (i.e. less than 3%) of the Company's current total net coalbed methane acreage in Indonesia of approximately 1.25 mn acres (not including certain options and rights to acquire up to an additional 2.13 mn net acres of land).
The Company also cautions that the above-noted target was not prepared by a qualified reserves evaluator within the meaning of NI 51-101 and there are no assurances that the Company will be successful in achieving such target, in whole or in part.
Important Notes
1.  Prospective resources are those quantities of petroleum estimated, as of    a given date, to be potentially recoverable from undiscovered    accumulations by application of future development projects. Prospective    resources have both an associated chance of discovery and a chance of    development. The chance of commerciality is the product of these two    risk components. There is no certainty that any portion of the    prospective resources will be discovered. If a discovery is made, there    is no certainty that it will be developed or, if it is developed, there    is no certainty as to the timing of such development or that it will be    commercially viable to produce any portion of the prospective resources.    If a discovery is made and development undertaken, the approximate    probability that the recoverable volumes will equal or exceed the    unrisked estimated amounts is generally inferred to be 90% for the low    estimate, at least 50% for the best estimate, and at least 10% for the    high estimate. Prospective gas resources are undiscovered resources that    indicate exploration opportunities and development potential in the    event a commercial discovery is made and should not be construed as    reserves or contingent discovered resources.2.  Recoverable unrisked prospective gas resources represent recoverable gas    volumes assuming their discovery and development but have not been    assessed for any geologic or development risks. Geologic risking of    prospective resources addresses the probability of success for the    discovery of significant quantities of potentially moveable petroleum,    which risk is conducted independent of estimations of petroleum volumes.    For CBM prospects, principal geologic risk elements include coal    quantity, gas content, and coal permeability. Development risking of    prospective resources for CBM accumulations should include consideration    of whether the entire area addressed by the assessment can and will be    developed, which component is generally unique to CBM prospects because    of the thickness and areal extent and wide variability in rock, gas    content, and production characteristics across that areal extent. For    CBM prospects, principal development risk elements are reservoir quality    across the evaluated acreage, development and application of technology    needed to commercially produce the acreage, the ability to depressure    the reservoir over a reasonable period of time, project commercial    conditions (financial, marketing, legal, social, and governmental    factors), and a reasonable expectation of a commitment to develop the    acreage. No geologic or development risking of the Company's resource    target has been undertaken by the Company or otherwise.3.  For a further discussion of the risks and uncertainties associated with    the recovery of unrisked prospective resources, reference is made to the    NSAI technical report prepared in connection with the Sekayu PSC titled    "Estimates of Unrisked Gross (100 Percent) Prospective Gas Resources    located in the Sekayu Block South Sumatra Basin, Indonesia as of    September 30, 2011" filed under the Company's profile on SEDAR at    www.sedar.com.