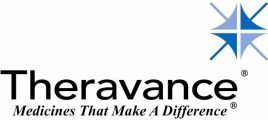 SOUTH SAN FRANCISCO, CA and BOLOGNA, ITALY -- (Marketwire) -- 01/08/13 -- Theravance, Inc. (NASDAQ: THRX) and Alfa Wassermann S.p.A. announced today the initiation of a Phase 2 proof-of-concept study with velusetrag, Theravance's investigational 5-HT4 agonist, for the treatment of patients with diabetic or idiopathic gastroparesis.

"We are pleased to be advancing the clinical development of velusetrag in a Phase 2 gastroparesis study," said Mathai Mammen, M.D., Ph.D., Senior Vice President of Research and Early Clinical Development of Theravance. "Today, patients have limited options for treating this serious, debilitating, and chronic condition."

About Phase 2 Study 0093

Study 0093 is a multicenter, randomized, double-blind, incomplete block, three-period fixed sequence crossover, Phase 2 study. This proof-of-concept study will assess three oral doses of velusetrag (5, 15, and 30 mg) or placebo, administered once daily in three periods of 1-week duration each, with a 1-week washout period between treatment periods, in approximately 32 patients with diabetic or idiopathic gastroparesis. The primary endpoint of the study is gastric emptying time. Secondary endpoints include safety and tolerability assessments.

About Gastroparesis

Gastroparesis is a serious, debilitating disorder of gastrointestinal (GI) motility with few therapeutic options currently available to patients. It is characterized by delayed gastric emptying in the absence of a mechanical obstruction. Symptoms experienced by patients with gastroparesis include early satiety, nausea, vomiting, and bloating. The impact of these symptoms, and the uncertainty of knowing when a symptom will occur, can make living with this condition very difficult.

About Velusetrag

Velusetrag, also known as TD-5108, is a highly selective agonist with high intrinsic activity at the human 5-HT4 receptor. An oral, investigational medicine dosed once daily, velusetrag has completed a 400-patient Phase 2 proof-of-concept study in chronic idiopathic constipation, demonstrating statistically significant prokinetic activity at all three doses tested; at the two lowest doses, velusetrag was generally well tolerated with a low incidence of adverse events. Velusetrag has also been shown to accelerate gastric emptying in healthy volunteers. Velusetrag was discovered by Theravance through the application of its multivalent drug design in a research program dedicated to finding new treatments for gastrointestinal motility disorders.

About Partnership

In October 2012, Theravance and Alfa Wassermann entered into a development and commercialization agreement for velusetrag, in development for gastrointestinal motility disorders. Under the agreement, the companies will collaborate in the execution of a two-part Phase 2 program, funded by Alfa Wassermann, to test the efficacy, safety and tolerability of velusetrag in the treatment of patients with gastroparesis. Alfa Wassermann has an exclusive option to develop and commercialize velusetrag in the European Union, Russia, China, Mexico and certain other countries. Theravance retains full rights to velusetrag in the United States, Canada, Japan and certain other countries.