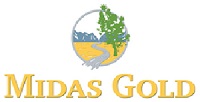 VANCOUVER, BRITISH COLUMBIA -- (Marketwire) -- 01/08/13 -- Midas Gold Corp. (TSX: MAX) today announced that, effective January 1, 2013, the Company's board of directors has made several key management appointments related to its Golden Meadows Project in Idaho: Bob Barnes to the position of Chief Operating Officer, John Meyer to the position of Vice-President, Development and Rocky Chase to the position of Manager of Regulatory Affairs. These appointments reflect the changing roles of Mr. Barnes, Mr. Meyer and Mr. Chase as the Golden Meadows Project advances from resource definition through design optimization, technical studies and, if supported by those studies, into the potential permitting of a mining operation.

"Appointing Bob Barnes to the position of COO, John Meyer as VP Development and Rocky Chase as Manager of Regulatory Affairs reflects their increasing responsibilities and enables the Company to further capitalize on the wealth of expertise and experience that these gentlemen continue to bring to the Midas Gold team and the advancement of the Golden Meadows Project," said Stephen Quin, President & CEO. "Bob's experience in operations, permitting and mine development, John's in project engineering and development, and Rocky's in mine closure and reclamation are a tremendous asset to the Company in ensuring that we have a sound, well-designed and practical project as we advance our studies and once we enter the permitting process."

Bob Barnes

Prior to joining Midas Gold as the Company's VP Development in September 2011, Mr. Barnes was Vice President, Operations with Capstone Mining Corp. and was responsible for Capstone's mines in Yukon and Mexico (from 2008 through early 2011) and for the development and operation of Capstone's Cozamin mine in Mexico before the Capstone - Sherwood Copper Corp. merger in 2008. Prior to joining Capstone, Mr. Barnes was involved in technical studies and operations in various locations, including a period with Pan American Silver. From 1985 to 1995, he worked with Wharf Resources, where he was General Manager of the Golden Reward and Wharf gold mines in South Dakota from 1988-1995. From 1981-88, Mr. Barnes played a leadership role in the feasibility, permitting, construction and operation of the original Wharf mine and, subsequently, for the permitting and implementation of a five-fold increase in production at these mines. Mr. Barnes is a mining engineer by training and spent his first ten years with Anaconda and Teck in operations, before moving on to his Wharf-related activities. Mr. Barnes graduated from Montana College of Mineral Science and Technology with a BSc (with honors) in Mining Engineering in 1970 and completed a night school study MBA from the University of South Dakota graduating in 1994. Mr. Barnes has been a Professional Engineer (PEng.) registered in the Province of British Columbia since 1976. In his new role, Mr. Barnes will assume direct responsibility for activities at the Golden Meadows site, for oversight of the project design team and for preparation of the project plan of operations and EIS, once Midas decides to proceed with permit applications.