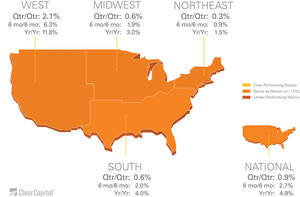 Clear Capital National Home Price Map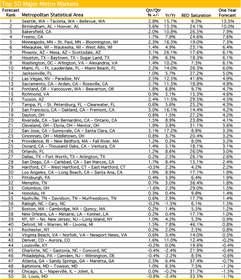 Clear Capital Top 50 Major Metro Markets



TRUCKEE, CA -- (Marketwire) -- 01/08/13 -- Clear Capital (www.clearcapital.com), the premium provider of data, collateral risk assessment, and real estate asset valuation and analytics, today released its Home Data Index™ (HDI) Market Report with data through December 2012. Using a broad array of public and proprietary data sources, the HDI Market Report publishes the most granular home data and analysis earlier than nearly any other index provider in the industry.

Report highlights include:

•Home prices in 2012 finished the year strong, boosted off the market lows of early 2012. •December's quarterly trends were mostly flat, indicating potential fiscal cliff and winter impact. •2013 forecasts call for continued, moderate growth as some potential buyers get priced out of the market.

"Overall the housing recovery still shows evidence of pushing ahead, as indicated by our December home price trends and 2013 forecasts. Quarterly home prices mostly mirrored those of last month and suggest that some buyers took pause in the initial winter months. Yet, looking back over 2012, national yearly price gains of 4.9% are still strong," said Dr. Alex Villacorta, Director of Research and Analytics at Clear Capital. "The housing landscape, however, could quickly shift should the broader economy tumble back into recessionary territory. Whether by perception or actual decrease in buying power for the average consumer, residual effects of the fiscal cliff deal could cause housing to change course. But as it stands now, home prices have continued to show resiliency by posting their largest yearly gain in nearly two and a half years.

"2013 should be interesting for the housing market, where national gains should continue to see upward growth but likely at a more modest rate. Keeping in mind our current gains are off market lows at the start of the year, 2013 gains will be measured against a higher price floor after a full year of recovery. On a local level, we expect to see shifts in the status quo for some hot markets, like Phoenix, as some buyer segments get priced out of recovering markets. As those buyers search for opportunities, markets with improving local economies and low price points, like Minneapolis, could become the new targets. At the end of the day, there are still plenty of great deals to be had across the country, investors looking for decent return, and pent up homebuyer demand on the verge of materializing."

December Quarterly Trends: Short term trends hold steady with little growth across the nation and four regions.