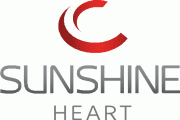 EDEN PRAIRIE, MN and SYDNEY, AUSTRALIA -- (Marketwire) -- 01/07/13 -- Sunshine Heart, Inc. (NASDAQ: SSH) (ASX: SHC) today provided the following clinical update on the progress of the C-Pulse® Heart Assist System.

United States (U.S.) Pivotal Trial

•Seven U.S. sites are currently engaged in contract negotiations and respective institutional review board (IRB) approval processes for the pivotal trial of the C-Pulse System. More than forty additional sites are in discussions or have expressed interest in receiving further information about participating in the trial. Early interest in the U.S. program has been encouraging, with over 80 clinical sites contacted to date. •Sunshine Heart continues to project that 30 to 40 active sites will participate in the pivotal trial of C-Pulse System. •The Company expects the first U.S. clinical site to be under contract in February 2013, with patient enrollment set to begin in the first quarter of 2013.

European Post Market Study

•Three sites in Germany are currently engaged in contract negotiations and respective Medical Ethics Committee (MEC) approval processes. The Company is also in discussions with additional sites in Germany and three other European countries relating to the post market study of the C-Pulse System, and is on track with management's expectations to have five sites engaged by the end of the first quarter. •The Company expects the first European site to be under contract with patient enrollment commencing in the first quarter of 2013.

Year End

•Sunshine Heart ended the year with $14.2 million in cash and cash equivalents (unaudited), in line with management's expectations. The Company plans to release its fourth quarter and full year 2012 audited results on March 11, 2013.

"It was especially rewarding to see Sunshine Heart achieve its major milestones in 2012," stated CEO Dave Rosa. "After securing both IDE approval for our U.S. pivotal trial and CE Mark for European commercialization, we are well positioned to expand our clinical experience and provide additional data from our European patients while initiating our U.S. pivotal trial. Coupled with this progress was a successful U.S. public financing which has the Company well positioned to meet its key objectives in 2013."

About the C-Pulse® Heart Assist System
The C-Pulse Heart Assist System, or C-Pulse System, an investigational device in the United States, Canada and countries that do not recognize the CE Mark approval, utilizes the scientific principles of intra-aortic balloon counter-pulsation applied in an extra-aortic approach to assist the left ventricle by reducing the workload required to pump blood throughout the body, while increasing blood flow to the coronary arteries. Operating outside the patient's bloodstream, the extra-aortic approach of the C-Pulse technology offers greater flexibility, allowing patients to safely disconnect to have intervals of freedom to perform certain activities such as showering. The C-Pulse System may help maintain the patient's current condition and, in some cases, reverse the heart failure process, thereby potentially preventing the need for later stage heart failure therapies, such as left ventricular assist devices (LVADs), artificial hearts or transplants.