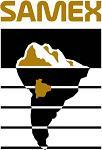 VANCOUVER, BRITISH COLUMBIA -- (Marketwire) -- 01/31/13 -- SAMEX Mining Corp. (TSX VENTURE: SXG)(OTCQB: SMXMF) is ready to advance exploration efforts at its 100%-owned Los Zorros project in Chile. The Company is hereby outlining parameters for an upcoming drill program at El Gringo, a copper and gold prospect located within the approximately 80 square kilometer land holdings of Los Zorros. Numerous surface mine workings are found throughout this prospect where copper and gold are believed to have been extracted by artisanal workers in the late 1900's. El Gringo has not been systematically explored or drilled by any prior geological team to date.

SAMEX proposes drilling an initial 5 boreholes (570 meters) to evaluate primarily copper and gold potential throughout El Gringo, as shown on the accompanying graphic plates at www.samex.com. The central coordinates of El Gringo are N 6907000 and E 359716, with heights ranging between 900 and 1000 meters above sea level (Figure No 1).

This drilling campaign will explore this area which is highly structurally controlled, where at least two episodes of alteration and mineralization have been identified. One is defined by manto-type mineralization containing copper and gold, while the other is comprised of feeders associated with copper and gold breccias (Figure No 2). The entire area is underlain by a thick sequence of volcanoclastics associated with lava flows, limestone, siltstones, quartzite and calcareous rocks. Below this mentioned sequence, dioritic granodiorite intrusives of the Upper Cretaceous age are found. Feeders are abundant in an average direction of 320 degrees azimuth.

The El Gringo mineralized area is part of a hydrothermal system, differing from copper porphyries but of close association. The target model is a combination of manto-type mineralization associated with exoskarns and abundant epithermal feeders. This mineralization appears to extend for over 400 meters in width and at least 800 meters in length, while the bulky mineralization is approximately of 360-330 degrees azimuth dipping slightly 15 degrees SE. Abundant copper oxides, specularite, gold, garnets, chlorite, high silicification, carbonates, Fe oxides, wollastonite and manganese have all been found throughout fractures disseminated along wall rocks of the feeder.

This drill program involves a preliminary 5 diamond drill holes with an average depth of 114 meters for a total of 570 meters (Figure No 3 & Table 1). In the event that meaningful visible mineralization is encountered, drilling will continue to greater depths in order to assist in quantifying tonnage potential.

Bulldozer work is currently in progress to construct access roads and drill pads in preparation for drilling at El Gringo, which is expected to commence shortly. SAMEX anticipates further updates on this program in the near future.

Table 1: El Gringo DDH Drill Program


--------------------------------------------------------------------------- Altitude Azimuth DipDDH Drill Northing Easting (m) (degrees) (degrees) Depth (m)---------------------------------------------------------------------------EG-13-001 6907165 359999 1000 90 0 120---------------------------------------------------------------------------EG-13-002 6907339 360092 930 260 80W 80---------------------------------------------------------------------------EG-13-003 6907067 360037 1000 280 70W 150---------------------------------------------------------------------------EG-13-004 6907042 359698 1008 255 80W 80---------------------------------------------------------------------------EG-13-005 6906958 359779 1002 277 60W 140---------------------------------------------------------------------------
Juan Carlos Toro Taylor, M.Sc. Economic Geology, Chief Geologist of SAMEX Mining Corp., is acting as Qualified Person in compliance with National Instrument 43-101 with respect to this release. He has reviewed the contents for accuracy.
This News Release includes certain "forward looking statements". Without limitation, statements regarding potential mineralization and resources, exploration results, future prospects of the Company, and future plans and objectives of the Company are forward-looking statements that involve various risks. Actual results could differ materially from those projected as a result of the following factors, among others: risks inherent in mineral exploration and grade of ore mined; risks associated with development, construction and mining operations; the uncertainty of future profitability and uncertainty of access to additional capital. Except as may be required by law, SAMEX undertakes no obligation to revise or update any forward-looking information as a result of new information, future events, or otherwise after the date hereof.
The TSX Venture Exchange has neither approved nor disapproved of the information contained herein.


Contacts:
SAMEX Mining Corp.
Sasan Sadeghpour
Director, Chairman & Interim Chief Executive Officer
(713) 956-5200, extension 102
2samex@samex.com
www.samex.com