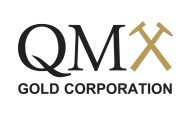 TORONTO, ONTARIO -- (Marketwire) -- 01/31/13 -- QMX GOLD CORPORATION (TSX: QMX)(OTCQX: QMXGF) ("QMX Gold" or the "Company") has produced approximately 4,000 ounces of gold from its Lac Herbin Mine in Val D'Or, Quebec in the fourth quarter of 2012. This brings total 2012 production for that mine to over 20,000 ounces of gold.

Production Summary


----------------------------------------------------------------------------                              2012 Production----------------------------------------------------------------------------Quarter                        Q1        Q2        Q3        Q4  Total 2012----------------------------------------------------------------------------Tons Milled (mt)           43,582    43,788    30,548    36,756     154,674----------------------------------------------------------------------------Grade (g/mt)                 4.55      4.19      5.70      3.85        4.51----------------------------------------------------------------------------Average Recovery             86.7%     90.7%     93.8%     87.8%       89.8%----------------------------------------------------------------------------Recovered Gold (oz)         5,530     5,352     5,249     3,998      20,130----------------------------------------------------------------------------Refined Gold (oz)           5,529     5,352     5,234     3,992      20,108----------------------------------------------------------------------------
The Company achieved its 2012 production guidance of between 18,500 to 20,500 by producing 20,100 ounces of gold from the Lac Herbin Mine. Additionally, the fourth quarter results are in line with 2012 budget numbers. Full financial results, including cash costs for 2012 will be released as part of the year-end disclosures expected in March.
The Aurbel Mill continues to perform positively and with more consistency in 2012. Recovery rates in the first quarter of 2012 started at 87% but increased substantially over the next two quarters to 91% and 94% respectively. The fourth quarter saw a drop to 87.8% mostly due to lower than expected grades; however, several potential improvements have been identified and implemented which should allow for further improved recoveries in 2013. The average recovery for 2012 was 89.8%, which is slightly better than the budgeted recovery rate of 89%. Higher recoveries over the course of 2012 can be attributed to operational improvements in the milling process and a higher grade of ore delivered to the mill.
In reviewing the results for 2012, Francois Perron commented, "I am happy to report that QMX Gold has achieved the upper end of its 2012 production target by producing 20,100 ounces from the Lac Herbin Mine. The recovery rates at the Aurbel Mill did slip somewhat in the fourth quarter mostly due to changes in the ore grade; however, further improvements in the mill have been identified and corrective measures have been taken, and we are already seeing improvements in our January recoveries."
Qualified Person
Technical programs and information included in this release have been reviewed and approved by David Rigg, P.Geo., the Chairman of the Company and a Qualified Person as defined under NI 43-101.