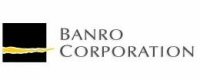 TORONTO, ONTARIO -- (Marketwire) -- 01/31/13 -- Banro Corporation ("Banro" or the "Company") (TSX: BAA)(NYSE Amex: BAA)(NYSE MKT: BAA) is pleased to provide an update of its Mineral Resource and Mineral Reserve estimates at its wholly-owned projects on the Twangiza-Namoya gold belt in the Democratic Republic of the Congo ("DRC"). Exploration drilling during 2012 at the four core projects, Twangiza, Namoya, Lugushwa and Kamituga, has resulted in positive growth in Mineral Resources and Mineral Reserves, particularly oxide and free-milling material, in line with the core strategy of the Company, whilst also ensuring the replacement of Mineral Reserves depleted thus far at the Twangiza Gold Mine.

Highlights


--  Banro's Measured & Indicated (M&I) Mineral Resource has grown to 10.18    million ounces ("Moz") of gold, an increase of 41%, and the Inferred    Mineral Resource has grown to 7.01Moz of gold, an increase of 56%.--  Banro's total oxide and free-milling Mineral Resource (both types of    materials may be efficiently treated by heap leach and CIL methods)    increased by 45%, representing 4.17Moz in the M&I category and 0.87Moz    in the Inferred category.--  At Namoya, M&I Mineral Resources increased by 17.7% to 1.86Moz of gold,    resulting in a 68.5% relative increase in the M&I Mineral Resource    contained within the optimized pit to 1.50Moz.--  The Proven & Probable Mineral Reserve estimate for Twangiza, based on    drilling and improved economic assumptions, increased by 36% to 1.54Moz--  At Lugushwa, the Indicated Mineral Resource consisting solely of oxide    material is 0.73Moz. Lugushwa's Inferred Mineral Resource is now    4.88Moz, of which 0.40Moz consists of oxide material.
"During 2012, the Company made significant progress with its exploration activities at its Twangiza, Namoya, Lugushwa and Kamituga project areas, increasing the Company's Mineral Resources, specifically oxide and free-milling material at Twangiza and Namoya, which have, or soon will have, established mining infrastructure. The increase in the overall Mineral Resources is substantial and underpins Banro's strategy to build value by adding new Resources and replacing the mined ounces," commented Dan Bansah, Banro's Vice President, Exploration.
Banro's exploration update published on November 15, 2012, highlighted significant drill intersections at the properties. The exploration focused on shallow infill and extension drilling at Lugushwa, definition drilling at Namoya, delineation drilling of the east and west flanking structures at Twangiza, and exploration drilling at Kamituga.
The encouraging results of the shallow infill drilling at Lugushwa facilitated the estimation of over 0.73 million ounces of high confidence Indicated oxide resources and an additional 0.40 million ounces of Inferred oxide material. This estimated oxide Resource will form the framework for Banro to undertake a preliminary economic assessment of Lugushwa's oxide material, which was rescheduled to incorporate the additional exploration data which could potentially enhance the economics of this project. In Namoya, while assessing the potential for additional Resources, definition drilling at Namoya was undertaken to improve geological confidence prior to the mine being brought into production in Q4 2013. In addition, the positive metallurgical studies of the free-milling primary material at Namoya has resulted in a 68.5% increase of the M&I Mineral Resource contained within the optimized pit (the "In-pit M&I Mineral Resources"), from 0.89 million ounces to 1.50 million ounces at a grade of 1.78 g/t Au for 26.20 million tonnes of material (the Measured component of this is 22.86 million tonnes at 1.86g/t Au and the Indicated component is 3.34 million tonnes at 1.26g/t Au). These Mineral Resources, and the potential beneath the pit (Figure 1), will be the catalyst for the Namoya Phase II expansion study due for completion in 2013. The encouraging results obtained from the delineation drilling of the east and west flanking structures at Twangiza, coupled with its improved economics, has allowed for the growth in Mineral Reserves and the replacement of ounces depleted since start-up. Exploration drilling at Kamituga has confirmed the potential of a number of targets including Kibukila, Filon 20 and G22. Infill drilling of these targets will be the core business objective for Kamituga during 2013.