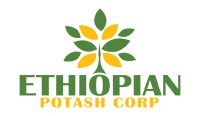 TORONTO, ONTARIO -- (Marketwire) -- 01/30/13 -- Ethiopian Potash Corp. (the "Company" or "EPC") (TSX VENTURE: FED) is pleased to announce that it has entered into a memorandum of understanding (the "MOU") which contemplates the early exercise of its option (the "Option") to acquire G and B Central African Resources Ltd. ("G&B"), which owns the Dankil Property, and the forming of a joint venture between EPC and Danakil Potash Corporation ("Danakil Corp.") regarding the Danakil Property ("Danakil Joint Venture").

The MOU contemplates G&B and its sole shareholder ZRH Nominees (0105) Ltd. ("ZRH") waiving the requirement for a feasibility study (the "Waiver") under the option agreement among EPC, G&B and ZRH (the "Option Agreement") in order to enable early exercise of the option and Danakil Corp. acquiring a 70% interest in the Danakil Property pursuant to the Danakil Joint Venture. The Waiver will be subject to satisfaction of all applicable conditions precedent, the restructuring of all outstanding debt of G&B incurred on behalf of EPC in connection with the Option and the commitment to a US$10 million investment by Danakil Corp. in the Danakil Joint Venture having closed in escrow.

Conditions precedent will include, among other things, due diligence, the execution of mutually satisfactory definitive agreements among the parties and obtaining all required approvals, including but not limited to TSXV and shareholder approvals.

Danakil Joint Venture

Danakil Corp. will acquire an interest in the Danakil Property through an ownership interest in a BVI joint venture company ("JVCo"), which EPC will establish to hold the shares of G&B acquired under the Option. Danakil Corp. will pay US$3 million (and commit to additional future expenditures of no less than US$7 million, as described below) for 70% of the shares of JVCo (US$1.5 million to be paid into JVCo and US$1.5 million to be paid to EPC). EPC will own the remaining 30% of the shares of JVCo. The initial proceeds paid to JVCo are expected to be used to satisfy any outstanding liabilities and for working capital purposes for the development of the Danakil Property.

The Danakil Joint Venture will be governed by a shareholders / joint venture agreement between EPC and Danakil Corp. ("JV Agreement"), which will provide (among other things) for customary drag & tag and pre-emptive provisions. Danakil Corp. will have nominees appointed to the boards of directors of JVCo and G&B (and any other group company of JVCo), in each case, that together represent a majority of the respective board of directors. EPC will be entitled to have its nominees appointed to fill the remaining positions on each respective board of directors as long as it retains not less than 10% of the issued share capital of JVCo.

The JV Agreement will also provide for Danakil Corp. to solely fund all expenditures of G&B (and any other group company of JVCo) until both (i) a National Instrument 43-101 compliant scoping study on a pre-determined section of the Danakil Property has been completed and (ii) it has funded expenditures totalling US$7 million. After Danakil Corp. has funded such expenditures, EPC and Danakil Corp. will contribute to expenditures of G&B on a pro rata basis, subject to customary dilutive provisions in the event of any failure of a party to fund its pro rata contribution from time to time.