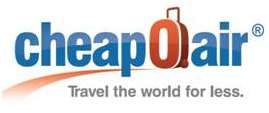 NEW YORK, NY -- (Marketwire) -- 01/30/13 -- Today, leading travel website CheapOair, announced the one millionth download of its award-winning "Flight Search" mobile app on the iPhone, iPad, Android and Windows 8 platforms. Increased downloads were seen over the past month, due in part to CheapOair's March to One Million campaign which rewarded users for downloading the app.

CheapOair saw record downloads for its app in 2012, which coincides with overall travel industry trends that state consumers are utilizing smartphones more than ever when booking vacations. Overall, downloads of the CheapOair app increased 186% and bookings grew 435% from 2011. Searches for flights and car rentals on the app were particularly popular, with over 4.8 million total searches. A record number of downloads were seen across all platforms during the March to One Million campaign.

"Hitting the one millionth download mark comes as a great source of pride for our team, as we've made it a priority to provide our customers with the ability to book travel anywhere, at anytime," says Sam Jain, CheapOair's Chief Executive Officer. "The CheapOair team has worked throughout the year to expand the reach of our apps across multiple platforms and enhance the services the app provides, like 24/7 live customer chat, all of which we will continue to do in 2013 to service our one million users."

To celebrate the one millionth download milestone, CheapOair will launch a promotion in the coming weeks to promote more downloads and bookings with the app. They will reward a select group of people who share, download and book.

To download and learn more about CheapOair's suite of mobile apps, visit www.cheapoair.com/mobile.

ABOUT CHEAPOAIR
CheapOair is a travel business that serves customers both online and with telephone travel specialists. CheapOair is a supplier of of cheap flights, hotel reservations, car rentals and cheap vacation packages. Offering value and convenience to savvy shoppers looking for affordable, one-stop travel solutions, CheapOair's portfolio of products includes millions of airfares on over 450 global airlines, 100,000 negotiated hotels and vacation packages, and car rentals. CheapOair is now available anywhere via the CheapOair Android, iPhone, Windows and the CheapOair mobile site.