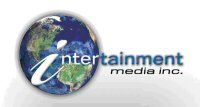 TORONTO, CANADA -- (Marketwire) -- 01/03/13 -- Ortsbo, Inc (a subsidiary of Intertainment Media Inc. (TSX VENTURE: INT)(OTCQX: ITMTF)(FRANKFURT: I4T)) announces the launch of its first localized business agreement effectively creating a partnership in The People's Republic of China. To lead this office, Ortsbo has engaged Matt Vegh, CEO of Middle Kingdom Studios, a leading film, media and tech financing fund and consultancy based in Chengdu, China; Fortune Magazine's choice for the 2013 Fortune Global Forum. Chengdu is the capital of Sichuan province in Southwest China and is one of the most important economic, transportation, and communication centers in Western China. Chengdu is the heart of the Sichuan National Promotion Base for the Game and Animation Industries, a government entity responsible for overseeing hundreds of game, app development and animation companies in the Province's IT and software parks.

"We recognize the importance of both China, but also the Chengdu region as a leader in software and computer gaming," states Ortsbo CEO, Patrick Bultema. "What's more, Matt Vegh is the right partner to serve as a bridge to the opportunities we can create together in China." Mr. Vegh has been in Chengdu for 13 years and has built key regional relationships, as well as ties to major Beijing based tech and media investment.

Middle Kingdom's Matt Vegh added, "I am pleased that Mr. Bultema and the Ortsbo team have recognized the potential of the Chengdu IT community and decided to establish a representative office here. As a long-term supporter of the city, having co-hosted and key-noted many international forums and conferences here over the years, I can say from experience, that Chengdu game companies and app development companies are gearing up to conquer this space. Ortsbo, with its customer care solutions, in-game real-time multi-language chat functionality, event globalization, Global Market communications and social media plug-in products is an ideal partner for many companies here."

Earlier this year, Patrick Bultema, visited Chengdu to speak at a Technology Summit, which was held in the New Century City Convention Center located in the South Hi-Tech Zone and beside the Tianfu Software Park where over 500 IT companies ply their trade. Co-hosting the summit with Middle Kingdom Studios was Middle Kingdom's partners and co-tenants of the new Chengdu Animation Superbase; the Sichuan National Promotion Base for the Game and Animation Industry, one of the leading governmental agencies in China in the sector and responsible for promoting integration of advanced technology among companies in its charge and more particularly, integration and adoption of advanced foreign technology through joint ventures, strategic alliances and other forms of potential cooperation.

"Our focus is on making it possible for people to communicate across languages on the internet," says Bultema. "Clearly, China represents one of the biggest cross-language opportunities as it becomes an increasingly prominent part of the process of globalization. I'm impressed with the software companies I've already met with in China, and I'm enthusiastic about our partnership with Middle Kingdom lead by Matt Vegh."