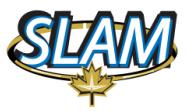 MIRAMICHI, NEW BRUNSWICK -- (Marketwire) -- 01/29/13 -- SLAM Exploration Ltd. (TSX VENTURE: SXL)(OTCBB: SLMF) ("SLAM") has submitted a 27 kg bulk sample from its wholly owned Menneval gold project in New Brunswick to RPC Science & Engineering ("RPC") of Fredericton for a Preliminary Metallurgical Scoping Study on the Maisie Zone gold discovery. The preliminary metallurgical investigation will involve mineralogy tests to define liberation target grind sizes, gold associations and bench scale scoping gravity separation tests.

The 27 kg sample of quartz vein material with visible gold was collected during the 2012 trenching program from a site referred by Company geologists as the "Jewellery Shop". This site is located in the centre of the Maisie Zone 25 m along strike from hole MG1226 which contains up to 104 g/t gold over 0.3 m as previously reported. Assay results for holes MG1224 to MG1242 are summarized in the table below.

The drilling program has traced the vein system over a 520 m strike length and to a depth of 25 m. Drill hole locations are shown at http://www.slamresources.com/projects/new-brunswick/menneval. The target vein was identified in a trenching program from which the Company reported numerous sites of visible gold with bonanza grade assays as it traced the vein system over a 700 m strike length in 2012. Photos of selected drill core with visible gold can be viewed at http://www.slamresources.com/core-shack/.


Hole_ID From_m To_m Interval_m Au_g/tMG1224(i) 12.00 14.00 2.00 8.78MG1224(i) 13.00 13.35 0.35 46.10MG1225(i) 17.90 18.80 0.90 8.66MG1226(i) 21.00 25.00 4.00 8.51MG1226(i) 24.50 24.80 0.30 104.00MG1227 17.95 19.00 1.05 2.32MG1229 34.00 34.65 0.65 0.22MG1232 16.60 17.50 0.90 0.24MG1236 11.95 12.35 0.40 1.79MG1237 14.83 15.00 0.17 9.05MG1238 18.10 18.80 0.70 0.33MG1239 8.55 8.67 0.12 1.09MG1240 9.20 9.80 0.60 8.22MG1241 10.70 11.30 0.60 3.78MG1242 9.00 9.70 0.70 2.95MG1242 22.85 23.50 0.65 0.44(i) MG1224 to MG1226 previously reported.The intervals are core lengths. True thickness may vary.
Qualifying Statements: Sara Lloyd, P.Geo. is the Qualified Person responsible for the technical information contained herein. Drill cores were delivered from the drill to a secure site for logging and sampling. Selected samples were split or sawn and sent to Activation Labs in Ancaster, Ontario for analysis. Activation Labs analyzed the samples by fire assay with AA finish followed by fire assay with gravimetric finish for gold values above 3.0 g/t. The Company used blank and standard samples for quality assurance and control. RPC is conducting the metallurgical tests in its test facility in Fredericton, New Brunswick. Leo Cheung, P.Eng., Senior Chemical Engineer, is the qualified person responsible for the metallurgical testing.
About The Menneval Project: SLAM holds 100% interest in 8 contiguous claims covering 30,820 hectares all acquired by map-staking near Menneval in northwest New Brunswick. Four (4) of the claims covering 692 hectares are subject to a 1.5% NSR. SLAM can buy down 0.5% NSR for C$0.5M and has right of first refusal on remaining 1%. The extensive property hosts a number of new gold discoveries including the Maisie zone. It also covers 3 previously discovered silver-base metal skarn deposits where exploration programs date back to 1965.
About SLAM Exploration Ltd:
SLAM is a mineral resource company based in Miramichi, New Brunswick and is actively exploring new gold discoveries on its Menneval project in northwestern New Brunswick. In addition, the Company owns the Nepisiguit and Nash Creek silver-base metal deposits, both NI 43-101 compliant and located in New Brunswick. The Company also owns a significant gold portfolio in Ontario including the Reserve Creek gold deposit. Additional information about SLAM and its projects is available at
www.slamexploration.com
or from SEDAR filings at
www.sedar.com
. Follow us on twitter @SLAMGold.
On behalf of the Board
Mike Taylor, P. Geo., President & CEO
SEDAR: 00012459E
This news release does not constitute an offer to sell or a solicitation of an offer to sell any of securities in the United States. The securities have not been and will not be registered under the United States Securities Act of 1933, as amended (the "U.S. Securities Act") or any state securities laws and may not be offered or sold within the United States or to U.S. Persons unless registered under the U.S. Securities Act and applicable state securities laws or an exemption from such registration is available.
This release includes certain statements that may be deemed to be "forward-looking statements" within the meaning of the U.S. Private Securities Litigation Reform Act of 1995. All statements in this release, other than statements of historical fact, that address future production, reserve potential, exploration and development activities and events or developments that SLAM expects, are forward-looking statements. Although management believes the expectations expressed in such forward-looking statements are based on reasonable assumptions, such statements are not guarantees of future performance, and actual results or developments may differ materially from those in the forward-looking statements. Please see our public filings at
www.sedar.com
for further information.
Neither TSX Venture Exchange nor its Regulation Services Provider (as that term is defined in the policies of the TSX Venture Exchange) accepts responsibility for the adequacy or accuracy of this release.


Contacts:
SLAM Exploration Ltd.
Mike Taylor, P. Geo.
President & CEO
506-627-1353 or Toll Free: 866.523.6719
darlene@slamexploration.com
www.slamexploration.com