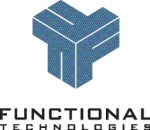 VANCOUVER, BRITISH COLUMBIA -- (Marketwire) -- 01/29/13 -- Functional Technologies Corp. (TSX VENTURE: FEB) (the "Company") today reported operational and financial results for the first quarter ended November 30, 2012 ("Q1/13"). Amounts, unless specified otherwise, are expressed in Canadian dollars.

Financial Results

The Company incurred a net loss of $1.4 million during the period, representing an increase of $0.3 million when compared to a net loss of $1.1 million during Q1/12.

Operating expenses, excluding stock-based compensation expenses, for Q1/13 were $0.8 million, compared to $1.2 million in Q1/12.

Liquidity and Outstanding Share Capital

As at November 30, 2012, the Company had cash and short-term investments of $1.1 million compared to $0.38 million as at August 31, 2012. The Company expects future operating expenses, excluding payments made to settle Federal Government obligations (see below), to be in the range of $0.3 million to $0.4 million per quarter, going forward into the foreseeable future. This follows prior announcements that the Company is divesting itself of its PEI assets and obligations and concentrating its resources on commercializing core yeast technologies in conjunction with global industry partners and is consistent with the revised business model designed to achieve positive cash flow as quickly as possible.

As at January 28, 2013, Functional Technologies had 61,370,444 common shares issued and outstanding.

Operating Highlights

During Q1/13, the Company:


--  On October 21, 2012, the Company announced the signing of an agreement    with a leading global yeast producer, under which production of    acrylamide-preventing yeast was to commence. Test-quantities of    acrylamide-preventing yeast have been produced pursuant to this Material    Transfer Agreement.--  On October 10th, 2012, the Company completed the second tranche of a    private placement, issuing 9,626,000 units valued at $0.20 per unit,    raising $1,925,200 less share issuance costs of $119,816.--  On September 14, 2012, the Company announced the successful commercial    launch of its new selectively bred PhyterraTM-branded hydrogen sulphide    (H2S)-preventing wine yeast strains that have also been selected for low    sulphur dioxide (SO2) production.--  On September 5, 2012, the Company announced that the U.S. Food and Drug    Administration ("FDA") had accepted the Company's Generally Regarded As    Safe ("GRAS") Notice for its acrylamide-preventing yeast strains.
Subsequent to quarter-end:
--  The Company reached a settlement with the Atlantic Canada Opportunities    Agency ("ACOA" or the "Agency") resolving all of the Company's    outstanding liabilities with the Agency, totaling $3.9m. In the prior    reporting period the Company had taken a provision of $3.3m in    anticipation of an eventual settlement with ACOA. The Company will repay    ACOA as follows: $400,000 payable by June 15, 2013, followed by payments    of $200,000 per quarter, until a total of $2.85m plus interest at 7.0%    per annum has been repaid. The Company will also grant ACOA a general    security agreement until such time as the amounts described have been    repaid. The settlement is subject to the completion and execution of    definitive agreements.--  The Company entered into an agreement to transfer certain non-core    assets, which had been impaired in their entirety in a prior period, to    a company controlled by former employees. The former employees have    released the Company from all claims, including those for severance.