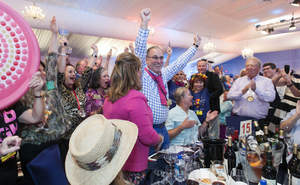 Bob and Karen Scott celebrate their winning bid of $750,000 for the fastest Ferrari ever built, the 2013 F12berlinetta, at the 2013 Naples Winter Wine Festival



NAPLES, FL -- (Marketwire) -- 01/26/13 -- An afternoon of bidding during the live auction at the 13th annual Naples Winter Wine Festival raised more than $8.5 million to benefit Collier County's underprivileged and at-risk children. The grand total raised since the first festival in 2001 has reached $116 million. The money raised is distributed through the festival's founding organization, Naples Children & Education Foundation. Wine Spectator has ranked the festival the most successful charity wine auction in the nation since 2004.

The three-day festival, themed 'When Stars Align,' reached the peak of excitement with the live auction at The Ritz-Carlton Golf Resort, Naples, in the Grand Lawn Pavilion, where winning bidders were among 500 guests. Lot totals ranged from $20,000 to $750,000.

The top money-raiser among 65 auction lots captured a bid of $750,000 for the fastest, most powerful Ferrari ever made -- the 2013 F12berlinetta. The lot gives the winner bragging rights as one of the first in the U.S. to own this car, as well as entry to a Ferrari driving-experience program. The 2014 Maserati Quattroporte V8, the fastest, four-door Maserati and one of the first to be delivered in the U.S., brought a winning bid of $340,000 and includes VIP access to the Pebble Beach Concours d'Elegance and other Maserati events.

A lot that captured multiple bids in a modified Dutch auction for a private Naples concert by the band Chicago, including an exquisite dinner and fine wines, raised $385,000.

Two experience lots raised $280,000 each: one for a trip to the 2013 Cannes Film Festival to walk the red carpet and spend a week at La Grange, a 17th century farmhouse on a private estate in Provence, and a second was a South Africa experience for two couples for 13 nights, with a $100,000 Graff jewelry credit.

On-the-spot donations raised $237,000 for the Lunch Boxes of Love fund-a-need lot that will provide meals for thousands of hungry children and their families.

The top wine lot fetched $180,000 for a rare 65-bottle complete vertical of Château Mouton Rothschild Artist Label series housed in a custom-made display table.

"The stars aligned today in a constellation of generosity," said NCEF trustee Bob Edwards, festival chair with his wife, Terry. "We are enormously grateful to everyone under the auction tent for sharing their treasure so our most vulnerable children can reach their potential."