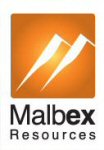 TORONTO, ONTARIO -- (Marketwire) -- 01/25/13 -- Malbex Resources Inc. ("Malbex") (TSX VENTURE: MBG) is pleased to announce that it has entered into agreements that allow it to acquire control of the Los Guandules Verdes exploration concession in the Dominican Republic (the "Property"). The Property is immediately south of the Nieta Concession currently being explored by Unigold Inc. ("Unigold") (TSX VENTURE: UGD) and approximately 15 kilometres northwest of GoldQuest Corporation's (TSX VENTURE: GQC) La Escandalosa project. Like the Nieta and La Escandalosa concessions, Los Guandules Verdes concession is underlain by the mid-Cretaceous Tireo Group which is host to various zones of volcano sedimentary-related gold and copper-zinc-silver mineralization elsewhere in the Domincan Republic.

"We are extremely pleased to have been able to acquire this strategic property in an area that is quickly becoming the focus of mineral discoveries," stated Joe Hamilton, CEO of Malbex. "The Dominican Republic is both economically and politically stable and remarkably prospective for the discovery of new gold deposits. This property diversifies the Malbex exploration efforts and should provide shareholders with new opportunities for discovery. We will continue to advance our Argentinean Del Carmen concession through preliminary economic studies and updated resource calculations over the coming months while establishing new exploration programs in the Dominican Republic."

About the Property

The Los Guandules Verdes concession is located in the Central Cordillera of the Dominican Republic. The western boundary follows the international border with Haiti while the eastern boundary is approximately 300 metres from the Nalga de Maco National Park (Figure 1).

The Property contains the Cretaceous age Tireo Group rocks which are overlain to the southwest by a veneer of "flysch" type calcareous slates, limestones, sandstones and shales of the Peralta Formation (Figure 2). The Duarte Formation within the Tireo Group trends parallel on the northeast side of the property and consists of metabasalts, volcanic tuffs, amphibolites and schists. Further to the north, the Tireo Group is in contact with tonalite, diorite and gabbro intrusive bodies. In general, the Tireo Group consists of andesite and basalt volcanic and volcanoclastic rocks with lesser felsic volcanics and limestone. Dacite porphyry and smaller sinuous ultramafic bodies are found throughout the area.

The Tireo Group is host to volcanogenic sulphide deposits that are currently being drilled by Goldquest Mining Corp. at the Escandolosa Project and by Unigold Inc. at the Candelones Project. Previous work on the Property has included limited soil geochemical grids and some surface prospecting (Figure 2). Historic showings within the Nalga de Maco National Park appear to trend onto the concession but no modern exploration has been conducted to test the extent of these trends.

Malbex intends to commence a program of geological mapping, surface sampling and geophysics in order to quickly identify drill targets for later follow-up. Work programs in the Dominican Republic can be conducted throughout the year.