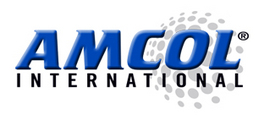 HOFFMAN ESTATES, IL -- (Marketwire) -- 01/25/13 -- AMCOL International Corporation (NYSE: ACO)

Announcement of Fourth Quarter Results

For the fourth quarter of 2012, AMCOL International Corporation (NYSE: ACO) generated diluted earnings attributable to its shareholders from continuing operations of $0.37 per share versus $0.39 per share in the prior year's quarter.

Net sales increased 2.3% to $239.1 million for the 2012 fourth quarter, compared to $233.8 million in the 2011 period. Gross profit increased $0.1 million in the 2012 fourth quarter, and gross profit margin decreased 60 basis points to 26.0%. Operating profit decreased 8.4% to $18.6 million, and operating profit margins decreased 90 basis points to 7.8%. Our effective tax rate for the 2012 fourth quarter was 24.7% compared to 34.5% in the prior year period.

We have renamed three of our segments to better reflect the business in which we operate. The Minerals and Materials, Environmental and Oilfield Services segments are now named Performance Materials, Construction Technologies and Energy Services, respectively.

"Our Energy Services segment delivered strong results for the fourth quarter, but continued softness in several end markets impacted our Performance Materials and Construction Technologies segments. As a result, our quarterly results were below our expectations," said AMCOL President and CEO Ryan McKendrick.

"The Performance Materials segment's revenues and gross margins declined in comparison to the fourth quarter of 2011. Decreased demand in our fabric care (specialty materials) and pet products were the main drivers of decreased performance in this segment; we do not expect a significant rebound in either of these product lines as we progress through 2013. Although our results reflect a continued softness in drilling fluid additive sales, we now see a gradual increase in demand developing," McKendrick continued.

"Our Construction Technologies segment's sales declined primarily as a result of lower sales for our lining technologies products both domestically and in Europe. However, we continue to experience growth in sales and profitability for our domestic building materials products. Gross margin for the segment was in excess of 30% as actions to reduce manufacturing costs continue to produce results," McKendrick added.

McKendrick continued, "Our Energy Services segment achieved record revenue and operating profit, driven primarily by increased domestic revenues in both land-based and offshore activities. Based on feedback from our key customers, the outlook for water treatment, well testing, and coiled tubing services in geographic areas where we are active remains strong. International business activity also continued to be well above the prior year."

"We continue to focus on building the framework necessary to maintain a leadership position in multiple, attractive market sectors. In addition, we will continue to actively manage our business portfolio, which in 2013 is likely to result in consolidation and restructuring of certain operations that do not fit our strategic and financial performance objectives. We anticipate restructuring charges in 2013 associated with these actions to be in the range of $3 million to $5 million," he concluded.