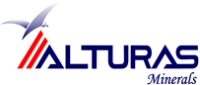 TORONTO, ONTARIO and LIMA, PERU -- (Marketwire) -- 01/24/13 -- Alturas Minerals Corp. (the "Company" or "Alturas") (TSX VENTURE: ALT)(LMA: ALT) is pleased to announce that it has exercised its option to acquire the 375 hectare Esperanza Uno mining concession from its original owner Compania Minera Agregados Calcareos S.A. ("COMACSA"). Alturas now owns 100% of the mining rights of the 3,700 hectare Huajoto project in the Huancavelica region, Central Peru.

On December 28th, 2012 the Company and COMACSA signed a contract terminating the local mining option and assignment agreement and executing the transfer of the mining concession previously held by COMACSA. In consideration for the Esperanza Uno concession, COMACSA is entitled to a 5% net profit interest royalty on all metals extracted from the Huajoto property block.

In compliance with the contract, the parties have agreed that: (i) If after four (4) years of having entered into this agreement, the construction of mining facilities within any of the Huajoto concessions has not started in order to proceed with the commercial production stage; or (ii) If after six (6) years of having entered into this agreement, the commercial production within any of the Huajoto concessions has not started, then ALTURAS shall pay COMACSA an annual amount of US$ 50,000.00 (fifty thousand and 00/100 US Dollars) as an advance on the net profit interest royalty.

Miguel Cardozo, President and CEO of the Company commented, "We are pleased to now have 100% ownership of the mining concessions covering the 3,700 hectare Huajoto project. Based on the positive exploration results to date, we believe that the Huajoto property has the potential to yield significant value to Alturas, including the zinc, copper and rare earth mineralization indicated from prior drilling in the Caty-Pablo area and the still unexplored gold-silver high-sulfidation potential mineralization in the La Virgen area, that may also eventually represent a mineralized lithocap overlying a porphyry-related mineralization center."

About the Huajoto Zinc-Gold-Copper-Rare Earth Element project

The Huajoto Project is situated 22 kilometers northwest of the historical mining town of Huancavelica in Central Peru. The project is comprised of eight contiguous mineral concessions totaling 3,700 hectares.

The property includes over 7.0 x 5.0 kilometers of strong hydrothermal alteration centered on a Late Tertiary felsic eruptive center. The system is the northern most of several alteration centers distributed along a well-defined, NNW-SSE striking, +20 kilometer long belt of skarn, polymetallic and epithermal deposits.

Geologically, the Huajoto Volcanic Complex (HVC) is a sill and flow complex of felsic to intermediate composition cutting the Mesozoic Pucara limestone dominated basement. Small diatreme breccia pipes attest to explosive felsic eruptive activity. Airfall tuffs appear to represent a synchronous or possibly later pyroclastic phase. Faulting is complex and intense, probably reflecting strong extension in the roof of a sub-circular, sub-volcanic/plutonic complex, which measures around 10 x 10 kilometers in dimension.