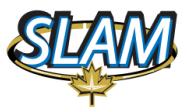 MIRAMICHI, NEW BRUNSWICK -- (Marketwire) -- 01/23/13 -- SLAM Exploration Ltd. (TSX VENTURE: SXL)(OTCBB: SLMF) ("SLAM") will be presenting at the Global Chinese Financial Forum at the following venue:


Global Chinese Financial Forum ("GCFF")Exhibit Booth 402: 9:30AM - 4:30PMDate: Saturday, January 26th, 2013Executive Airport Plaza Hotel & Conference Centre7311 Westminster Highway, Richmond, British Columbia
Visit SLAM's booth 402 for information about SLAM's new and exciting gold discoveries at Menneval project in northwestern New Brunswick. This display will include bonanza grade samples from the current drilling program on SLAM's recently discovered Maisie zone.
PowerPoint Presentation:
The Company will deliver a summary of the gold discoveries in a power point presentation in the Main Speaking Hall at the GCFF 2:50 PM on Saturday Click on the following site for additional information about this conference:
http://www.gcff.ca/htm/2013Van_Overview.html
Mineral Exploration Round-Up:
SLAM is also pleased to announce it will attend the Vancouver Mineral Exploration 2012 Roundup Conference, presented by the Association for Mineral Exploration BC (AME BC) at the Westin Bayshore in Vancouver. Attendees are invited to visit the New Brunswick exhibit in the Chehalis room to view a display of bonanza grade drill core samples from the Menneval project.
The New Brunswick exhibit will run from January 28-31st, 2013 in the Chehalis room at the Westin Bayshore, Vancouver. This exhibit is a showcase for the New Brunswick mineral industry and is part of a global mining conference. SLAM is proud to be a participant in this world-class event.
About The Menneval Project: SLAM holds 100% interest in 8 contiguous claims covering 30,820 hectares all acquired by map-staking near Menneval in northwest New Brunswick. Four (4) of the claims covering 692 hectares are subject to a 1.5% NSR. SLAM can buy down 0.5% NSR for C$0.5M and has right of first refusal on remaining 1%. The extensive property hosts a number of new gold discoveries including the Maisie zone. It also covers 3 previously discovered silver-base metal skarn deposits where exploration programs date back to 1965.
About SLAM Exploration Ltd:
SLAM is a mineral resource company based in Miramichi, New Brunswick and is actively exploring new gold discoveries on its Menneval project in northwestern New Brunswick. In addition, the Company owns the Nepisiguit and Nash Creek silver-base metal deposits, both NI 43-101 compliant and located in New Brunswick. The Company also owns a significant gold portfolio in Ontario including the Reserve Creek gold deposit. Additional information about SLAM and its projects is available at
www.slamexploration.com
or from SEDAR filings at
www.sedar.com
. Follow us on twitter @SLAMGold.
On behalf of the Board
Mike Taylor, P. Geo., President & CEO
SEDAR: 00012459E
This news release does not constitute an offer to sell or a solicitation of an offer to sell any of securities in the United States. The securities have not been and will not be registered under the United States Securities Act of 1933, as amended (the "U.S. Securities Act") or any state securities laws and may not be offered or sold within the United States or to U.S. Persons unless registered under the U.S. Securities Act and applicable state securities laws or an exemption from such registration is available.
This release includes certain statements that may be deemed to be "forward-looking statements" within the meaning of the U.S. Private Securities Litigation Reform Act of 1995. All statements in this release, other than statements of historical fact, that address future production, reserve potential, exploration and development activities and events or developments that SLAM expects, are forward-looking statements. Although management believes the expectations expressed in such forward-looking statements are based on reasonable assumptions, such statements are not guarantees of future performance, and actual results or developments may differ materially from those in the forward looking statements. Please see our public filings at
www.sedar.com
for further information.
Neither TSX Venture Exchange nor its Regulation Services Provider (as that term is defined in the policies of the TSX Venture Exchange) accepts responsibility for the adequacy or accuracy of this release.


Contacts:
SLAM Exploration Ltd.
Mike Taylor, P. Geo.
President & CEO
506-627-1353 or Toll Free: 866.523.6719
darlene@slamexploration.com
www.slamexploration.com