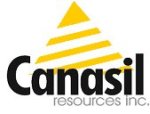 VANCOUVER, BRITISH COLUMBIA -- (Marketwire) -- 01/23/13 -- Canasil Resources Inc. (TSX VENTURE: CLZ)(FRANKFURT: 3CC) ("Canasil") announces that MAG Silver Corp. (TSX: MAG)(NYSE MKT: MVG) ("MAG") has reported drill results from the recently completed Phase 2 drill program at Canasil's La Esperanza silver-lead-zinc project in Durango and Zacatecas States, Mexico. 12 diamond drill holes were completed for a total of 3,049.50 metres - 9 drill holes on 5 sections along a total strike length of 835 metres to test the Fatima vein and 3 drill holes on 2 sections 350 metres apart to test the San Pascual vein, both located in the northwest of the project area.

The best intercept from the San Pascual vein was from drill hole SP12-01 at a core depth of 79.00 metres with 4.93 metres (true width 2.19 metres) of 0.19 g/t gold, 104.2 g/t silver, 2.57% lead and 7.88% zinc, including 2.77 metres (true width 1.23 metres) of 0.23 g/t gold, 162.2 g/t silver, 3.91% lead and 13.39% zinc. The best intercept from the Fatima vein was from drill hole FA12-05 at a core depth of 155.55 metres with 4.15 metres (true width 2.76 metres) of 0.07 g/t gold, 92.4 g/t silver, 0.98% lead and 0.11% zinc, including 2.76 metres (true width 1.84 metres) of 0.07 g/t gold, 111.5 g/t silver, 1.04% lead and 0.14% zinc. Detailed results for all drill holes are included in the table below. The results are currently being reviewed with regards to plans for future exploration programs on the project.

About La Esperanza:

The La Esperanza project covers 68,954 hectares, located in the Mexican Silver Belt in northern Zacatecas and southern Durango States. This recognized world-class silver belt hosts some of the world's largest and highest grade silver deposits and operating mines. The La Esperanza project is close to a number of active mines such as Pan American Silver's La Colorada and First Majestic Silver's La Parrilla mines. The project covers multiple vein occurrences and alteration zones over a 20 kilometre strike length along a prospective SE-NW trend where the results of an airborne geophysical survey conducted by MAG and drilling to date by MAG and Canasil indicate potential for hosting a large mineralized system.

The project is under an option agreement whereby MAG can earn a 60% interest by completing CAD$ 5,000,000 in cumulative exploration expenditures by September 1, 2014, (CAD$ 1,885,788 completed to September 30, 2012) and making a further CAD$ 200,000 cash payment to Canasil by September 1, 2013.

Qualified Person: Dr. Peter Megaw, Ph.D., C.P.G., Director of MAG, has acted as the qualified person as defined in National Instrument 43-101 for this disclosure and supervised the preparation of the technical information in this release. Dr. Megaw has a Ph.D. in geology and more than 20 years of relevant experience focused on silver and gold mineralization, and exploration and drilling in Mexico. He is a certified Professional Geologist (CPG 10227) by the American Institute of Professional Geologists and an Arizona registered geologist (ARG 21613). Dr. Megaw is not independent as he is a Director and Shareholder of MAG. Dr. Megaw is satisfied that the results are verified based on an inspection of the core, a review of the sampling procedures, the credentials of the professionals completing the work and the visual nature of the silver and base metal sulphides within a district where he is familiar with the style and continuity of mineralization.