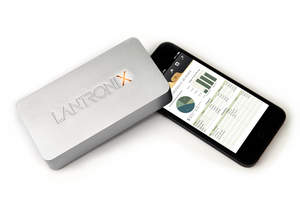 The xPrintServer - Office Edition from Lantronix is the ideal mobile printing solution for business users as an increasing number of employees are bringing their iPads and iPhones to work and need a hassle-free printing solution.



IRVINE, CA -- (Marketwire) -- 01/23/13 -- Lantronix, Inc. (NASDAQ: LTRX), a leading global provider of smart M2M connectivity solutions, is celebrating the launch of its new xPrintServer™ -- Office Edition during Macworld | iWorld 2013, held January 31 - February 2, 2013 at the Moscone Center in San Francisco, Calif. As the Official Mobile Print Sponsor at Macworld, Lantronix will feature the new enterprise-ready xPrintServer Office Edition at six print stations, two on each floor of the convention center. At each print station, attendees can see the power of the xPrintServer in action by printing directly from their Apple iOS® device. Lantronix will also demonstrate the xPrintServer in its booth, located at S5 in the MacIT Sponsor Showcase, 3rd Floor, Moscone Center West.

As the industry's first and only plug-and-print hardware solution for printing from iPads®, iPhones® and virtually any iOS device, the xPrintServer is offered in two editions, the recently-announced Office Edition and the Home Edition, which is intended for the consumer.

"The xPrintServer Office Edition is well-suited for the show's MacIT track, which is targeted to enterprise managers from Fortune 1000 companies who are seeking solutions for optimally implementing iOS products into the enterprise," said Mark D. Tullio, vice president of worldwide marketing for Lantronix. "We have seen such a strong need from IT departments looking to deploy enterprise printing solutions -- and the Office Edition fits that need to a tee, as more and more employees need to print from their iPads while at work. We are delighted to demonstrate the power and simplicity of the xPrintServer at Macworld."

Tullio also noted that the xPrintServer will be featured in an iPhoneography special event, sponsored by Adobe, held on Wednesday, January 30 from 8:00 a.m. - 9:00 p.m. in Moscone Center West. "Last summer we had the opportunity to be involved in the mobile arts movement through our sponsorship of the first LA Mobile Arts Festival, which showcased the largest ever display of iPhoneography. We are thrilled to continue to play a role in this evolving art form."