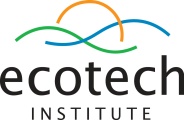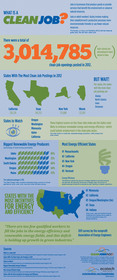 Ecotech Institute Launches the Clean Jobs Index


DENVER, CO -- (Marketwire) -- 01/23/13 -- After nearly a year of research, Ecotech Institute today revealed the first-ever "Clean Jobs Index", which aggregates all the available clean jobs in the U.S. The Index found that there were more than three million clean jobs available across the United States (3,014,785) in 2012. The Index breaks down clean jobs by state, with links to local jobs listings. In addition to providing objective information on jobs, the Index also looks at a variety of sustainability factors that affect citizens' lifestyles, including alternative fueling stations, LEED projects, total energy consumption, energy efficiency, green pricing, net metering and state incentives.

Ecotech Institute, the first and only college focused entirely on training students for renewable energy jobs, initiated and produced the Clean Jobs Index using a wide variety of external resources. Ecotech will update the sustainability factors of the Index data on a quarterly and annual basis (depending on when new data is released) and monthly as new jobs are posted for hiring.

To determine what jobs are deemed clean jobs, Ecotech used the "green jobs" definition from the U.S. Department of Labor - Bureau of Labor Statistics (BLS), which states that green jobs are either: (1) Jobs in businesses that produce goods or provide services that benefit the environment or conserve natural resources, or (2) jobs in which workers' duties involve making their establishment's production processes more environmentally friendly or use fewer natural resources (http://www.bls.gov/green/). Ecotech then took this definition and used data from Burning Glass International, whose patented job aggregation technology searches for job listings from more than 17,000 sources, to create the Clean Jobs Index list of available positions.

"The Clean Jobs Index addresses the prevalence of clean jobs and takes a unique ranking approach to hot topics in the world of sustainability," says Colin Coyne, Managing Principal, The Coyne Group and LEED 2.0 Accredited Professional. "This tool is able to aggregate important factors that affect job potential, businesses, livability, politics and much more by using a methodology that is 100 percent objective and an interface that is clean, concise and practical."