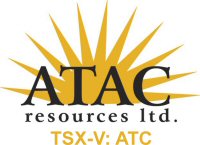 VANCOUVER, BRITISH COLUMBIA -- (Marketwire) -- 01/23/13 -- ATAC Resources Ltd. (TSX VENTURE: ATC) is pleased to provide a summary of recently compiled results from the Company's 2012 regional-scale exploration program conducted across its 100% owned 1,700 sq/km Rackla Gold Project in central Yukon.

The comprehensive 2012 program consisted of stream sediment and soil geochemical surveys, prospecting, mapping, hand pitting, hand trenching and satellite image structural lineament analyses. Exploration emphasis was directed at previously unexplored areas outside the drilled zones along the 40 km long Nadaleen Trend at the eastern end of the property and within the 35 km long Rau Trend containing the Tiger Deposit at the western end. A total of 19,693 soil samples, 1,219 stream sediment samples and 1,526 rock samples were collected along the 185 km long property. Highlights are listed below:

2012 Regional Exploration Highlights:


--  Wide spaced soil sampling identifies ten new Tier 1 Carlin-type    pathfinder+/-gold anomalies within the Nadaleen Trend;--  Follow-up exploration of two 2011 Nadaleen Trend anomalies late in the    2012 field season resulted in the drill discovery of the Anubis and    Sunrise Zones (Anubis discovery hole AN-12-001 intersected 8.51 m of    19.85 g/t gold and Sunrise discovery hole OS-12-114 intersected 14.86 m    of 10.54 g/t gold);--  Detailed follow-up work at the Pharaoh target 13 km northeast of the    Osiris area identified Carlin-type mineralization and quartz veins with    visible gold. Grab samples from the quartz vein material returned grades    up to 79.40 g/t gold;--  Prospecting of a 5.6 km long intermittent gold geochemical anomaly 3 km    south of the Tiger Deposit in the Rau Trend resulted in the discovery of    the Bengal Showing where outcrop channel samples returned grades greater    than 3 g/t gold;--  Property-wide stream sediment geochemical surveys have identified 21    anomalous drainages on the property outside the Nadaleen and Rau Trends    for follow-up in 2013; and,--  Reconnaissance stream silt sampling and geological interpretation beyond    the property boundary led to the staking of 84 sq/km of unexplored    anomalous drainage basins with favourable Carlin-style geology.
"The ability to consistently make significant new discoveries like Anubis, Pharaoh, Sunrise and Bengal is testimony to the district-scale potential of both trends," states Graham Downs, ATAC's CEO. "With virtually no historical gold exploration along the Rackla Gold Belt and only approximately 16% of the belt having now been geochemically surveyed, we are very optimistic that our ongoing systematic exploration will continue to produce additional discoveries."
Nadal
een Trend
2012 exploration within the
Nadal
een Trend was highly successful as demonstrated by two new drill confirmed Carlin-type gold discoveries named the Anubis and Sunrise Zones. The Sunrise Zone is part of the Osiris mineralizing system, while the Anubis Zone is located 10 km west of the Osiris area. The Anubis Zone is particularly significant as it validates the district gold potential of the
Nadal
een Trend. Continued exploration successes in 2012 included the identification of ten Tier 1 pathfinder element+/-gold geochemical anomalies and the identification of the Pharaoh target 13 km northeast of the Osiris area which contains both Carlin-style and gold-bearing quartz vein mineralization. Quartz vein sub-crop and grab samples from Pharaoh returned gold grades ranging from below detection to 79.40 g/t gold.