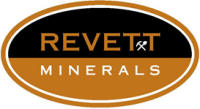 SPOKANE VALLEY, WASHINGTON -- (Marketwire) -- 01/22/13 -- Revett Minerals Inc. (NYSE MKT: RVM) (NYSE Amex: RVM) (TSX: RVM) provides an update on underground assessment and monitoring activities and announces fourth quarter and full year 2012 production results from the Troy Mine, located in northwest Montana. Currency is reported in United States dollars unless otherwise indicated.

Troy Mine Update:

Following the suspension of underground mining activities in mid-December 2012, the Company has been able to re-enter some underground areas for assessment and monitoring purposes. The main mechanical and equipment areas such as the crusher and conveyor system are unaffected by recent ground instability, but there has been some groundfall along the underground main haulage route at a structural cross fault. The Company has recommenced scaling and pumping activities in the North Ore Body and is currently evaluating options for regaining access to the Lower Quartzite and A & C Beds. Remedial measures will be determined after examination of the ore body from the South Adit, which is currently scheduled for the week of January 28th. The company does not as yet have a firm date for the resumption of production activities.

Underground operations were suspended by the Company as a safety measure and the Company has not been issued any citations or assessed any fines by MSHA during the recent occurrence of ground instability. The Company must continue to coordinate with MSHA as it re-enters additional underground areas and believes that the operational measures taken by management were the correct decisions and that the long term mining plan at the Troy Mine remains intact. A further update will be issued once full access to all mining areas has been completed.

The company has fulfilled its 2012 concentrates sales requirements and has no outstanding hedges. We will provide 2013 operations guidance once a firm date to recommence production has been set.

Troy Mine Fourth Quarter and Full Year 2012 Operating Summary:


--  For the full year of 2012, net cash from operations(1)was $18.7 million    compared to $28.2 million for 2011. Net cash from operations(1) for the    fourth quarter ended December 31, 2012 was $0.2 million.--  Mill throughput for the full year of 2012 averaged 3,588 tpd compared to    3,957 tpd for the full year of 2011. Fourth quarter 2012 throughput was    204,969 tons processed, averaging 3,203 tpd for the period.--  Silver production for the full year of 2012 was 1,112,089 ounces    compared to 1,291,010 ounces for the full year of 2011. Fourth quarter    2012 silver production totaled 161,133 ounces averaging throughput    grades of 0.94 oz/ton.--  Copper production for the full year of 2012 was 7,555,215 pounds    compared to 10,651,494 pounds for the full year of 2011. Fourth quarter    2012 copper production totaled 1,007,982 pounds averaging throughput    grades of 0.32%.--  There were zero lost time incidents reported during the fourth quarter    of 2012. The MSHA calculated Incidence Rate for the Troy Mine for the    full year 2012 is 4.04 as compared to a national underground average for    the first nine months of 2012 of 2.49.