The Big Game is in the House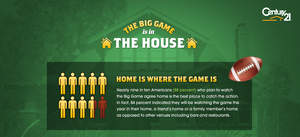 Home Is Where The Game Is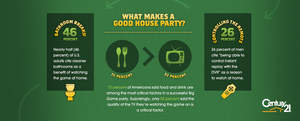 What Makes A Good House Party



PARSIPPANY, NJ -- (Marketwire) -- 01/22/13 -- Century 21 Real Estate LLC, the franchisor of the world's largest residential real estate sales organization, today announced the results of its Big Game Survey. CENTURY 21®, an advertiser in this year's Super Bowl®, recently surveyed Americans about their game-watching and party plans during this year's game. The results revealed an overwhelming majority of Americans consider the home to be the best place to tune into the Big Game and that a number of factors contribute to making the party a success, including the comforts of home, good food and, of course, a big screen television.

Key findings include:

•Home is where the game is. Nearly nine in ten Americans who plan to watch the Big Game (88 percent) agree home is the best place to catch the action. In fact, 84 percent indicated they will watch the game this year in their home, a friend's home or a family member's home as opposed to other venues including bars and restaurants.

•Comfort, comfort, comfort. 66 percent of those who plan to watch the game at their own home or someone else's said a comfortable and/or relaxing atmosphere is the leading reason why they opted to watch the game there. In fact, the most popular benefit of watching the game at home instead of a bar is the ability to easily find a comfortable seat with 58 percent of U.S. adults citing this as a benefit. Not far behind was the advantage of not having a huge crowd blocking the view of the television, which drew 48 percent of the vote.

•In good company. 63 percent of women value good company as a critical factor to making a good Big Game party, compared to 57 percent of men.

•However, 46 percent of U.S. males indicated that aside from holidays and birthdays, the Big Game is their favorite reason to get together with family and friends at someone's home (compared to 39 percent of U.S. females).

•What makes a good house party? Nearly three-quarters of Americans (72 percent) said food and drink are among the most critical factors in a successful Big Game party.

•Party Too Hard? After a long day of eating, drinking and touchdown-cheering, those aged 18-34 are most likely to indicate that they have called in sick to work the next day after a Big Game house party (22 percent). And of all hooky players -- men are more likely to do so than women (14 percent compared to 9 percent).