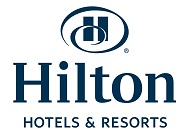 LONDON, UNITED KINGDOM -- (Marketwire) -- 01/21/13 -- Editors Note: There is an info-graphic accompanying this press release.

As Britons brace themselves for Blue Monday, recognised as the UK's most depressing day of the year due to post Christmas blues, gloomy weather and other factors, Hilton Hotels & Resorts discovers that Britain's workforce is suffering from Vacationitis - a disease affecting workers because they do not take enough vacation. Today the flagship brand of Hilton Worldwide issues a report titled '2013 Hilton UK Vacation Deficit Report' showing Britons enjoy just eight out of their average 24 days annual leave because the rest of the time is taken up with "domestic admin."

The research commissioned by Hilton also shows that more than half of the British workforce has not had a holiday in at least a year, more than half continue to check work emails and take calls from the office whilst on annual leave and 5 per cent have not had a holiday in 10 years or more.

The study of 2,000 workers in the UK found that the majority of annual leave is spent catching up on household chores, DIY projects or even food shopping. Looking after ill children, attending funerals and medical appointments are also things eating into Brits' annual leave. 60 per cent even claimed to regularly feel more tired and stressed out after taking annual leave than they would if they had been in the office because they are doing anything but relaxing.

In response to the research findings, Hilton Hotels & Resorts launched Hilton Urgent Vacation Care Centre, www.vacationcarecentre.hilton.com, where stressed out workers can find out more about Vacationitis, take a diagnostic quiz, receive a prescription and take advantage of the Hilton Any Weekend, Anywhere Sale, through which travellers can save up to 40 per cent on 2013 weekend stays at participating Hilton properties worldwide. Visitors to the satirical site can also compare Vacationitis levels by country, explore leisure travel offers and news, and enter for the chance to win one of 15 Hilton weekend getaways(1).

Psychologist, Dr. Linda Papadopoulos says, "We are working longer hours with over a third of us spending more time with our boss than with our partners or friends. In fact we're still connected to the office even when we've taken annual leave, which means we aren't even getting a break on weekends because were often working. These work pressures mean we don't have much down time - and not taking the time to unwind and spend time with friends and family can negatively impact our work- life balance and general well-being. In the same way we take responsibility for doing our job well, we also need to take responsibility for our self-care skills, and this involves putting up appropriate boundaries between work and home and also making a concerted effort to take time off, not just to catch up on domestic admin but to genuinely unwind and reconnect with friends and family. With 40 per cent of respondents in the survey noting that vacations are the only real time they get to spend quality time with their families, it's important that people are encouraged to use more than the eight out of 24 days annual leave they are currently using and gain a better work-life balance."