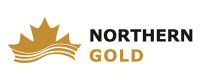 TORONTO, ONTARIO -- (Marketwire) -- 01/21/13 -- Northern Gold Mining Inc. (TSX VENTURE: NGM) ("Northern Gold" or the "Company") is pleased to announce results from 9 additional diamond drill holes totaling 5,203 metres from its 2012 surface diamond drilling program on the Garrcon Property of the Golden Bear Project, 100 km east of Timmins, Ontario.

The results from the 9 drill holes released today along with 2 previously released holes has outlined what appears to be a high-grade zone of gold mineralization with a 600-metre strike length within the Garrcon Deposit. The new zone is located more than 200 metres east of the historical Garrcon underground workings and at a greater depth.

Greg Gibson, President and CEO of Northern Gold, comments: "Although we are at the initial stages of this new high-grade discovery, there is already strong indication that there may be continuity between these drill intercepts. To date, we have outlined a 600 metre high-grade trend of mineralization which remains open in all directions. Additional drilling will provide details on the orientation, strike length, and the up and down-dip extent of this gold zone."

Drill assay highlights of the new high-grade zone are provided in Table 1. A plan map of the highlighted drill intercepts is also enclosed herein as Figure 1.


Table 1 - Garrcon East High Grade Zone Assay Highlights----------------------------------------------------------------------------                                       From         To   Interval     Au g/tHole ID                  Section        (m)        (m)        (m)      uncut----------------------------------------------------------------------------GAR-11-163(i)              7+50W        497        498        1.0      95.47----------------------------------------------------------------------------GAR-12-188(i)              6+50W        491        492        1.0      82.74----------------------------------------------------------------------------GAR-12-244                 6+00W        460        461        1.0      58.97----------------------------------------------------------------------------GAR-12-245                 5+50W        368        369        1.0       8.19----------------------------------------------------------------------------GAR-12-247                 5+00W        527        528        1.0      10.62----------------------------------------------------------------------------GAR-12-248                 4+50W        421        430        9.0       3.91----------------------------------------------------------------------------GAR-12-249                 4+00W        414        415        1.0       7.65----------------------------------------------------------------------------GAR-12-260                 3+50W        370        371        1.0       4.53----------------------------------------------------------------------------GAR-12-262                 3+50W        431        432        1.0       1.60----------------------------------------------------------------------------GAR-12-263                 2+50W        523        524        1.0      94.77----------------------------------------------------------------------------GAR-12-264                 1+50W        524        526        2.0       6.05----------------------------------------------------------------------------(i)- previously released