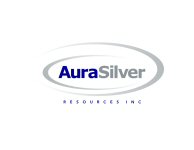 OTTAWA, ONTARIO -- (Marketwire) -- 01/21/13 -- Aura Silver Resources Inc. (TSX VENTURE: AUU) ("Aura Silver" or the "Company") is pleased to announce that a high quality gold target referred to as the Dingo prospect and an adjacent copper prospect have been outlined through a comprehensive interpretation of geochemical data at its wholly-owned Greyhound property in Nunavut. These new discoveries add to the excellent potential of the property where previous results identified one gold and two silver targets located to the east and south-east of Aura Lake, as well as an untested silver target on the Greyhound north-east claims. These latest results complete Aura Silver's extensive geochemical interpretation where six drill-ready targets have been clearly identified along an Archean greenstone belt stretching over twenty five kilometres from the southwest to the northeast.

Robert Boaz CEO and President of Aura Silver states that, "During the past year, we have concentrated our efforts on isolating the sources of high grade surface samples of gold, silver and base metals at Greyhound. We now believe that Greyhound likely represents the most exciting exploration property for gold, silver, copper and zinc of any other property in Nunavut or for that matter likely northern Canada, especially given the high quality infrastructure currently in place. It is most unusual to explore this far north and to have such excellent logistics".

The Dingo Prospect lies 5.5 kilometres NNE of Greyhound's Aura Lake area and only thirty kilometres north of Baker Lake, NU with access via the all-weather road leading to Agnico Eagle's Meadowbank mine. The prospect is a discontinuous north-south striking quartz-vein system traced over 1.7 kilometres of strike at the margin of a major felsic sub-volcanic intrusion and mafic volcanics with a possible east-west trending shear zone structure; a classic gold environment. The vein system has been traced by outcrop and a discontinuous, but linear, gold-in soil anomaly with values in excess of 2,000 ppb Au. Sampling was conducted at 50 metre intervals along lines spaced at 100 metres. Grab samples from exposed outcrop assayed from trace up to 9.1 g/t Au and from trace up to 96.6 g/t Ag as reported in the table below.

A significant gossan development lies near the quartz-vein system near the south end of Dingo and bordering the east-west shear zone structure and measures 5 by 150 metres. Mineralization consists of pyrite, chalcopyrite and trace arsenopyrite as a sulfide vein stringer zone. Precious metals associated with this copper stringer zone are low but one sample reported a copper value of greater than 10,000 ppm (greater than 1% Cu). However, the Company speculates that this zone may be associated genetically with the high grade surface samples transported to the north end of Aura Lake which assayed 9.2% copper and 18.5% zinc.

Dingo Prospect Grab Samples


SAMPLE NUMBER                                         GOLD            SILVER                                                     (g/t)             (g/t)AA03                                                   9.1               4.6G0650994                                               7.4              96.698-AA-04                                               7.2              10.2JS11-43                                                1.2              20.8JS-11-44 (copper zone)                                 0.9              47.6JS-11-45 (ext. of copper zone)                         0.1               2.8JS11-46                                                0.8               9.8G0650994                                               0.1               9.6Note: All samples were assayed by fire assay by Actlabs, an accredited assaylaboratory, being one of the first labs in the world to achieve ISO 17025accreditation as well as CAN-P-1579 (Mineral Lab) and CAN-P-1578 (forensiclab) accreditations.