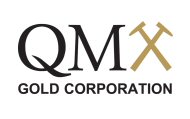 TORONTO, ONTARIO -- (Marketwire) -- 01/17/13 -- QMX GOLD CORPORATION (TSX: QMX)(OTCQX: QMXGF) ("QMX Gold" or the "Company") is releasing results from the 2011 and 2012 drill campaign at its wholly-owned Lac Herbin mine for the S1 Deep Sector. Definition diamond drilling results have increased the outline of the S1 zone, shown in Figure 1.

Highlights from the drill results from the S1 Deep zone include:


--  14.9 g/t Au over 3.2 metres from hole LH-07-009--  13.5 g/t Au over 2.0 metres from hole LH-07-010--  11.1 g/t Au over 4.5 metres from hole LH-07-014
Full Results can be found in Table 1.
The drilling of the S1 Deep Sector, below level 37, was started in the third quarter of 2011 and was completed in the second quarter of 2012 and analysis occurred in the third quarter. Exploration work focused on definition drilling of the resource envelope with the goal of expanding the zone. Drilling confirms the extension of the S1 zone at depth.
QMX targeted the S1 Deep Zone with definition drilling of 42 holes for a total of 4,589 metres. Of the 42 holes, 14 holes (or 33%) returned values above 3g/t Au, 8 holes (or 19%) have intersected values from 1g/t Au to 3g/t Au and 20 holes (or 48%) intersected the shear zone but returned values lower than 1g/t Au. These characteristics are typical of Lac Herbin economical mineralization throughout the mine.
Ramping down and development to reach the S1 Deep sector was started in the fourth quarter of 2012. Production from this zone is forecast to begin during the third quarter of 2013.
The S1 Deep Zone is hosted in the massive diorite Bourlamaque Batholith and is a sheared structure with an azimuth of 80 degrees ENE dipping towards the south at 70 degrees. The shear varies in thickness from a few centimeters to 2.0 meters wide and is injected with quartz and quartz-carbonate-tourmaline-chlorite veining. The veining contains 1% to 10% patchy massive and disseminated pyrite with trace chalcopyrite and rare pyrrohotite. Gold is associated with pyrite.
Francois Perron, the President and CEO of QMX Gold, commented: "Our exploration program at Lac Herbin continues to provide very positive results and I am pleased to see that the S1 zone is delivering. The goal of the definition drill program was to extend the mine life at Lac Herbin and these new drilling results are being incorporated into the new reserves. I look forward to the announcement of the updated resources and reserves currently expected before the end of the first quarter."
Table 1
----------------------------------------------------------------------------                                            Grade   Grade                             Core    True  g/t Au  g/t AuHole #       From      To  Length   Width  Un-Cut     Cut           Comments----------------------------------------------------------------------------LH07-001    95.50   98.60    3.10    1.50   30.30   24.17       10%Py, 2%CPY----------------------------------------------------------------------------LH07-002   103.80  106.90    3.10    1.50    0.03    0.03    Outside Contour----------------------------------------------------------------------------LH07-003    97.80   99.80    2.00    1.50    0.46    0.46    Outside Contour----------------------------------------------------------------------------LH07-004    89.25   94.60    5.35    3.70   14.31    8.40     7%Py, 2.15m QV----------------------------------------------------------------------------LH07-005    75.85   78.00    2.15    1.50    0.58    0.58    Outside Contour----------------------------------------------------------------------------LH07-006    66.00   67.64    1.64    1.50   17.24   16.75              10%Py----------------------------------------------------------------------------LH07-007    71.60   74.30    2.70    2.30   10.29   10.29          V.G. 5%Py----------------------------------------------------------------------------LH07-008    80.40   83.10    2.70    2.50    1.92    1.92               3%Py----------------------------------------------------------------------------LH07-009    67.70   70.40    2.70    3.20   29.44   14.90        5%Py, 2%Cpy----------------------------------------------------------------------------LH07-010    62.00   64.40    2.40    2.00   36.03   13.54        7%Py, 2%Cpy----------------------------------------------------------------------------LH07-011    77.60   80.10    2.50    1.50    5.09    5.09       2%Py, Tr Cpy----------------------------------------------------------------------------LH07-012    73.75   76.35    2.60    1.60    1.61    1.61       Tr Py, 1%Cpy----------------------------------------------------------------------------LH07-013    66.05   68.60    2.55    1.50    0.30    0.30    Outside Contour----------------------------------------------------------------------------LH07-014    62.60   67.40    4.80    4.50   15.02   11.13    VG. 2%Py, 1%Cpy----------------------------------------------------------------------------LH07-015    75.30   77.30    2.00    1.70    0.54    0.54    Outside Contour----------------------------------------------------------------------------LH07-016    76.50   78.35    1.85    1.50    0.13    0.13    Outside Contour----------------------------------------------------------------------------LH07-017    92.60   96.20    3.60    1.50   10.85    8.29               2%Py----------------------------------------------------------------------------LH07-018    71.90   74.40    2.50    1.50    0.35    0.35    Outside Contour----------------------------------------------------------------------------LH07-019    64.70   66.50    1.80    1.52    0.06    0.06    Outside Contour----------------------------------------------------------------------------LH07-020   100.80  106.30    5.50    1.50    1.19    1.19               2%Py----------------------------------------------------------------------------LH07-021    77.90   82.00    4.10    2.20    1.18    1.18              Tr Py----------------------------------------------------------------------------LH07-022    64.35   65.90    1.55    1.50    0.18    0.18    Outside Contour----------------------------------------------------------------------------LH07-035   101.40  105.70    4.30    1.50    0.59    0.59    Outside Contour----------------------------------------------------------------------------LH07-036    98.60  103.00    4.40    1.50   38.23   15.25        5%Py, 1%Cpy----------------------------------------------------------------------------LH07-037    86.75   90.40    3.65    1.50    0.77    0.77    Outside Contour----------------------------------------------------------------------------LH07-038    94.45   99.00    4.55    1.50    1.98    1.98               2%Py----------------------------------------------------------------------------LH07-039    91.95   96.80    4.85    1.50    0.41    0.41    Outside Contour----------------------------------------------------------------------------LH07-040    76.50   79.20    2.70    1.90    0.29    0.29    Outside Contour----------------------------------------------------------------------------LH07-041   103.35  110.50    4.90    1.90    0.03    0.03    Outside Contour----------------------------------------------------------------------------LH07-042    91.50   96.65    5.15    1.90    0.03    0.03    Outside Contour----------------------------------------------------------------------------LH07-043    80.30   83.75    3.45    1.90    0.86    0.86    Outside Contour----------------------------------------------------------------------------LH07-044    60.90   62.40    1.50    1.50    3.88    3.88       2%Py, Tr Cpy----------------------------------------------------------------------------LH07-045    60.00   62.50    2.50    2.30    0.48    0.48    Outside Contour----------------------------------------------------------------------------LH07-046    63.55   67.75    4.20    1.90    3.89    3.89    VG. 2%Py, 1%Cpy----------------------------------------------------------------------------LH07-047   107.00  112.75    5.75    1.50    4.97    4.97    VG. 2%Py, TrCpy----------------------------------------------------------------------------LH07-048    69.00   70.85    1.85    1.50    0.03    0.03    Outside Contour----------------------------------------------------------------------------LH07-049    71.95   74.80    2.85    1.80    1.43    1.43       2%Py, Tr Cpy----------------------------------------------------------------------------LH07-050   113.00  121.50    8.50    1.50    4.43    4.43       3%Py, Tr Cpy----------------------------------------------------------------------------LH07-051   101.70  109.35    7.65    1.90    0.02    0.02    Outside Contour----------------------------------------------------------------------------LH07-052    85.70   88.00    2.30    1.50    0.02    0.02    Outside Contour----------------------------------------------------------------------------LH07-056   108.00  113.40    5.40    1.90    1.87    1.87        3%Py, 1%Cpy----------------------------------------------------------------------------LH07-057   121.50  126.00    4.50    1.50    1.14    1.14               3%Py----------------------------------------------------------------------------