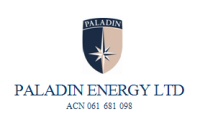 PERTH, WESTERN AUSTRALIA -- (Marketwire) -- 01/17/13 -- Paladin Energy Ltd ("Paladin" or "the Company") (TSX: PDN)(ASX: PDN) is pleased to provide its Quarterly Activities Report for the three month period ended 31 December 2013.

HIGHLIGHTS


--  Record sales revenue of US$133.9M for the quarter, selling 2.78Mlb U3O8    at average price of US$48.10/lb.--  Record quarterly and annual production at both the Langer Heinrich and    Kayelekera mines.    --  combined production for the December quarter of 2.191Mlb (994t) U3O8        is an increase of 13.6% on the September quarter and is the        equivalent of 103.1% of nameplate production of 2.125Mlb U3O8 for        the quarter.    --  total annual production for CY2012 of 7.946Mlb (3,604t) U3O8 is a        34% increase over the previous calendar year.--  Record Langer Heinrich production of 1.419Mlb (644t) U3O8 is an increase    of 9.9% on the previous quarter.    --  record recovery of 87.4% versus design of 85%.    --  feed grades of 805ppm U3O8.    --  demonstrated ability of the project to produce well above nameplate        at design of 800ppm feed grades.    --  further optimisation initiatives underway.    --  Stage 3 Bankers' Completion Tests successfully completed.--  Kayelekera production of 772,280lb (350t) U3O8 is an increase of 20.9%    on the previous quarter and is an all-time quarterly record.    --  quarterly production at 93.6% of nameplate while remaining        constraints in the resin-in-pulp circuit (RIP) are being addressed.    --  feed grades of 1,159ppm U3O8 (design is 1,100ppm).    --  consistently improved acid plant production continued to provide        positive cost implications with reduced dependence on imported acid.    --  increased likelihood of securing low cost grid power to site within        the year is progressing well.--  Cost savings and optimisation initiatives continue successfully with    total costs and unit production costs reducing at both mines.--  FY2013 production guidance of 8.0 - 8.5Mlb U3O8 remains well on target.
SAFETY
The Group continued its high safety performance with a 12-month moving average Lost Time Injury Frequency Rate (LTIFR) of 1.1. During the period, one LTI (foot injury) was recorded at the Langer Heinrich Mine (LHM). The high profile safety management initiatives as part of a comprehensive Safety Action Plan and a new cultural programme (Unwritten Ground Rules - UGRs) implemented at LHM to redress its recent slightly decreased safety trend are bearing fruit with fewer injuries reported and numerous site hazards being addressed over the past quarter. During this time, the annual NOSA HSE grading audit was conducted and the preliminary result has been a 4 Platinum Star rating.
There were no LTIs at the Kayelekera Mine (KM).
QUARTERLY URANIUM SALES
Sales for the quarter were 2,783,424lb U3O8 generating revenue of US$133.9M, representing an average sales price of US$48.10/lb U3O8 (average Ux spot price for the quarter was US$43.16/lb U3O8). Sales were a quarterly record and reflect in part the uneven distribution of contracted deliveries through the year. Sales volume in the March 2013 quarter will be closer to quarterly production.