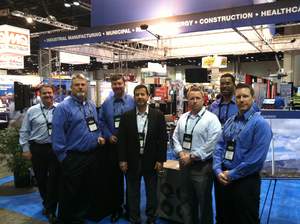 ComRent team at Power Gen (L-R) Todd Lambert, Shawn Heggen, Rommie Cross, Raul Martinez, Matt Barger, Dennis Frierson, Aaron Griffin


OWINGS, MD -- (Marketwire) -- 01/17/13 -- Further sparking its leadership in load bank rentals and service, ComRent, today announced the company delivered a record 2012 -- featuring new products, an expanded management team, and an enhanced global footprint. Based on this success, the company was named to Inc. Magazine's exclusive "2012 Fast 500/5000" list for the sixth year in a row.

ComRent has become the market's premier load bank solutions and technology provider for testing mission-critical power generation systems. The load bank rental technology is used by data centers, hospitals, utilities, wastewater treatment plants and oil and gas industries for a range of AC and DC load testing. The company's unique Cx Monitor is the first integrated technology designed for data center commissioning, while the revolutionary DayCor® Corona Camera permits users to identify corona damage in daylight with extreme accuracy.

Central to the company's success was the introduction of a new, custom-engineered load bank solution -- offering a more efficient method of testing water-cooled equipment in data centers. The EXLS is the industry's first in-aisle, water-cooled server simulator load bank, conducting end-to-end electrical and thermal testing of both the chiller and chilled water loop.

"Led by unwavering support for our customers, ComRent has always been committed to testing and validating their most sophisticated electrical power systems -- keeping important commissioning and testing projects on track. This year was no different, as we stepped up our technology and racked up numerous industry awards," said Clayton Taylor, Founder and Chairman of ComRent. "Based on overwhelming customer demand, we'll continue to raise the bar for the load bank market in 2013."

Taking its leadership one step further, the company also announced major agreements with Aggreko and Poit Energia during the year. The agreement with Aggreko led to a seamless commissioning solution for wind farm power testing. Covering the United States and Canada, the deal enables both companies to provide complex wind turbine commissioning services -- saving significant time and money for owners and operators. ComRent also drove international expansion with a new service center in Brazil -- based on a partnership with Poit Energia, the market leader in rental generators and temporary infrastructure in Latin America.