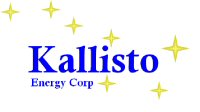 CALGARY, ALBERTA -- (Marketwire) -- 01/17/13 -- Kallisto Energy Corp. (TSX VENTURE: KEC) ("Kallisto" or the "Company") is pleased to provide the following corporate update.

Increased Bank Facility

Kallisto has signed an agreement with its banker pursuant to which the Company's credit facility increased from $8.8 million to $10.1 million. The borrowing base on the increased line has been set at $8.5 million, an increase of $2.0 million. The agreement provides for additional increases in the borrowing base through April 2013 conditional on the Company achieving predetermined production levels.

Production

Field production for the month of December 2012 was approximately 340 boe per day, including approximately 220 bbls of oil and liquids. This includes the results of the recently drilled wells at Pembina and the acquisition of Cumberland Oil & Gas Ltd ("Cumberland").

Acquisition of Cumberland

Kallisto has completed the integration of the operations of Cumberland following the acquisition of the company on October 11, 2012. There are a number of important developments relative to the Cumberland assets:


1. Valhalla, Alberta - management's interpretation of the water-flood response at Valhalla supports the drilling of a 100% horizontal well to maximize light oil recovery on Company lands. In addition, the Company has recently acquired a 100% interest in 960 acres of P&NG rights adjacent to its current holdings in the Valhalla area. In the coming months, management will complete a review and determine the timing of drilling new wells on its Valhalla lands;2. Chambery, Saskatchewan - the Company's lands at Chambery have been offset recently by the drilling of a number of horizontal oil wells targeting the Upper and Lower Shaunovan formations. Management is evaluating these wells and anticipates that a horizontal well could be drilled on the Company's lands in 2013.
ERCB Hearing
In August, 2012, Kallisto applied for a license to drill an Elkton oil test at 16-26-027-01 W5M. The owners of the Crossfield gas storage facility, CrossAlta Gas Storage & Services Ltd., TransCanada Pipelines Limited and TransCanada Energy Ltd. (collectively "TransCanada"), have filed an objection to Kallisto's license application due to a concern over proximity. The Company was notified that the Energy Resources Conservation Board (the "ERCB") will hold a public hearing on the application, commencing on February 12, 2013.
This is the second Kallisto drilling license application that TransCanada has objected to in as many years. Kallisto was successful in obtaining a well license in February 2012 following an ERCB hearing.
2013 Capital Program
Management is finalizing plans for its 2013 capital program. It is expected that development oil wells will be drilled at Crossfield, Pembina, and Valhalla, Alberta and Chambery, Saskatchewan.
Kallisto is a Calgary-based junior resource company engaged in the exploration, development and production of oil and natural gas in Alberta.
Forward Looking Information
The reader is advised that some of the information contained herein may constitute forward looking statements within the meaning assigned by National Instrument 51-102 and other relevant securities legislation. It includes, but is not limited to, statements with respect to well production and performance, timing of well drilling and completion and the results of water-flood operations. Forward-looking information is frequently characterized by words such as "plan", "expect", "project", "intend", "believe", "anticipate", "estimate", "scheduled", "potential", or other similar words, or statements that certain events or conditions "may", "should" or "could" occur. Forward-looking information is based on the Company's expectations regarding its future growth, results of operations, production, future capital and other expenditures (including the amount, nature and sources of funding thereof), competitive advantages, plans for and results of drilling activity, environmental matters, business prospects and opportunities. Such forward-looking information reflects management's current beliefs and assumptions and is based on information currently available to it. The reader is cautioned that assumptions used in the preparation of such information, although considered reasonable by the Company at the time of preparation, may prove to be incorrect and readers are cautioned not to place undue reliance on forward-looking information, which speaks only as of the date hereof. The Company does not undertake any obligation to release publicly any revisions to forward-looking information contained herein to reflect events or circumstances that occur after the date hereof or to reflect the occurrence of unanticipated events, except as may be required under applicable securities laws.
Forward-looking information involves significant known and unknown risks and uncertainties. A number of factors could cause actual results to differ materially from the results discussed in the forward-looking information including risks associated with the impact of general economic conditions, industry conditions, governmental regulation, volatility of commodity prices, currency fluctuations, imprecision of reserve and resource estimates, environmental risks, competition from other industry participants, the lack of availability of qualified personnel or management, stock market volatility and the Corporation's ability to access sufficient capital from internal and external sources. Additional risks and uncertainties are described in the Company's Annual Information Form dated May 22, 2012 which is filed on SEDAR at
www.sedar.com
.
Barrels of oil equivalent (BOE) are calculated using the conversion factor of 6 Mcf (thousand cubic feet) of natural gas being equivalent to one barrel of oil. BOE may be misleading, particularly if used in isolation. A BOE conversion ratio of 6 Mcf: 1 bbl (barrel) is based on an energy equivalency conversion method primarily applicable at the burner tip and does not represent a value equivalency at the wellhead. Given that the value ratio based on the current price of crude oil as compared to natural gas is significantly different from the energy equivalency of 6:1, utilizing a conversion on a 6:1 basis may be misleading as an indication of value.
NEITHER TSX VENTURE EXCHANGE NOR ITS REGULATION SERVICES PROVIDER (AS THAT TERM IS DEFINED IN THE POLICIES OF THE TSX VENTURE EXCHANGE) ACCEPTS RESPONSIBILITY FOR THE ADEQUACY OR ACCURACY OF THIS RELEASE.


Contacts:
Kallisto Energy Corp.
Robyn Lore
President and Chief Executive Officer
(403) 237-9996