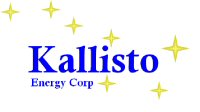 CALGARY, ALBERTA -- (Marketwire) -- 01/17/13 -- Kallisto Energy Corp. (TSX VENTURE: KEC) ("Kallisto" or the "Company") is pleased to provide the following corporate update.

Increased Bank Facility

Kallisto has signed an agreement with its banker pursuant to which the Company's credit facility increased from $8.8 million to $10.1 million. The borrowing base on the increased line has been set at $8.5 million, an increase of $2.0 million. The agreement provides for additional increases in the borrowing base through April 2013 conditional on the Company achieving predetermined production levels.

Production

Field production for the month of December 2012 was approximately 340 boe per day, including approximately 220 bbls of oil and liquids. This includes the results of the recently drilled wells at Pembina and the acquisition of Cumberland Oil & Gas Ltd ("Cumberland").

Acquisition of Cumberland

Kallisto has completed the integration of the operations of Cumberland following the acquisition of the company on October 11, 2012. There are a number of important developments relative to the Cumberland assets:


1.  Valhalla, Alberta - management's interpretation of the water-flood    response at Valhalla supports the drilling of a 100% horizontal well to    maximize light oil recovery on Company lands. In addition, the Company    has recently acquired a 100% interest in 960 acres of P&NG rights    adjacent to its current holdings in the Valhalla area. In the coming    months, management will complete a review and determine the timing of    drilling new wells on its Valhalla lands;2.  Chambery, Saskatchewan - the Company's lands at Chambery have been    offset recently by the drilling of a number of horizontal oil wells    targeting the Upper and Lower Shaunovan formations. Management is    evaluating these wells and anticipates that a horizontal well could be    drilled on the Company's lands in 2013.
ERCB Hearing
In August, 2012, Kallisto applied for a license to drill an Elkton oil test at 16-26-027-01 W5M. The owners of the Crossfield gas storage facility, CrossAlta Gas Storage & Services Ltd., TransCanada Pipelines Limited and TransCanada Energy Ltd. (collectively "TransCanada"), have filed an objection to Kallisto's license application due to a concern over proximity. The Company was notified that the Energy Resources Conservation Board (the "ERCB") will hold a public hearing on the application, commencing on February 12, 2013.
This is the second Kallisto drilling license application that TransCanada has objected to in as many years. Kallisto was successful in obtaining a well license in February 2012 following an ERCB hearing.
2013 Capital Program
Management is finalizing plans for its 2013 capital program. It is expected that development oil wells will be drilled at Crossfield, Pembina, and Valhalla, Alberta and Chambery, Saskatchewan.
Kallisto is a Calgary-based junior resource company engaged in the exploration, development and production of oil and natural gas in Alberta.