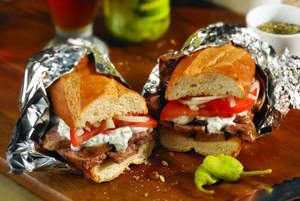 Gyro Brat Hoagie


MISSION, KS -- (Marketwire) -- 01/17/13 -- (Family Features) No matter what the score is, give game day fans something to cheer about with great food, and plenty of it.

These simple, delicious recipes from Johnsonville are easy for you to make, which means you can sit back and enjoy the game with everybody else.

For more flavorful recipe ideas to make your game day party a winner, visit www.johnsonville.com.



Gyro Brat HoagieYield: 6 servingsSauce1         cup (8 ounces) sour cream1/2       medium cucumber, peeled, seeded and finely chopped2         cloves garlic, minced2         teaspoons fresh parsley, chopped1/4       teaspoon salt1/4       teaspoon cracked black pepper, optionalHoagie1         package (19 ounces) Johnsonville Original Bratwurst1         loaf (1 pound) French bread1         small onion, thinly sliced1         medium tomato, thinly sliced
Preheat oven to 350 degrees F.
In a bowl, combine sauce ingredients. Cover and refrigerate until serving.
Grill brats according to package directions. When cool enough to handle, cut into 1/4-inch bias slices.
Slice French bread lengthwise and transfer to a baking sheet. Arrange brat slices on bread bottom. Bake at 350 degrees F for 10 minutes or until bread is lightly browned.
Remove from oven. Top with the sauce, onion and tomato. Cut hoagie and serve.
Cajun Chicken Sausage JambalayaYield: 6 servings1         large onion, chopped1         medium green pepper, chopped2         ribs celery, chopped2         jalapeño peppers, seeded and diced (optional)2         tablespoons olive oil1         package (12 ounces) Johnsonville Cajun Style Chicken Sausage          links, sliced2         cloves garlic, minced1         can (28 ounces) tomatoes, diced1/2       cup water1         tablespoon tomato paste3/4       teaspoon Cajun seasoning1/2       pound frozen cooked medium shrimp, thawed and tails removed2         cups hot cooked rice
In a large saucepan, sauté onion, pepper, celery and jalapeño peppers in oil until crisp-tender. Add sausage and garlic; sauté 1 to 2 minutes longer.
Add tomatoes, water, tomato paste and seasoning; bring to a boil. Reduce heat; cover and simmer for 15 minutes.
Stir in shrimp and rice; heat through.
Italian Sausage LollipopsYield: 20 lollipops1         package (19 ounces) Johnsonville Hot Italian Sausage Links20        10- to 12-inch bamboo skewers          Oil for deep frying (vegetable, peanut or canola)Corn Batter1         cup cornmeal1         cup flour1/4       teaspoon salt1/8       teaspoon black pepper1/4       cup sugar4         teaspoons baking powder1         large egg, lightly beaten1         cup milk (preferably not skim)Remoulade Dipping Sauce2         tablespoons mayonnaise2         tablespoons Dijon mustard2         tablespoons whole grain mustard1         tablespoon lemon juice1         teaspoon wine vinegar2         tablespoons pickle relish2         tablespoons capers, chopped1         teaspoon dried tarragon1/2       teaspoon ground black pepper1/4       teaspoon salt          Dash Tabasco sauce1         cup canola oil