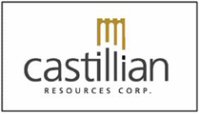 TORONTO, ONTARIO -- (Marketwire) -- 01/17/13 -- Castillian Resources Corp. (TSX VENTURE: CT)(OTCQX: CTIIF) ("Castillian" or the "Company") has completed 5,951 meters of reconnaissance diamond drilling in 21 holes at its Hope Brook Gold Project in southwestern Newfoundland. All of the holes, except two that were lost, intersected the mineralized silicified zones as targeted from geological and geophysical data.

The drilling intersected multiple zones of gold mineralization in a major new near surface target zone in the Mine Zone - 240 Connector Target ("Connector Zone"; see Figures 1 and 2), located approximately 900 metres (m) southwest of the former Hope Brook open pit. Table 1 lists significant results for all holes completed in the program (see press release dated December 11, 2012 for discussion of results of first four holes).

Highlights from new drilling include:


--  Major new near surface target zone within the Connector Zone and above    the 240 Zone which extends along strike for approximately 800m to a    depth of more than 300m;--  Hole HB12-100: 1.51 grams gold per tonne (g Au/t) over 14.0m, including    2.03 g Au/t over 8.0m and 1.07 g Au/t over 18.1m core length, including    1.68 g Au/t over 5.5m core length within a 57 m wide silicified zone in    the Connector Target; and--  Hole HB12-101: 1.04 g Au/t over 8.5m core length, 1.44 g Au/t over 2.9m    core length and 1.35 g Au/t over 5.6m core length within an overall 75m    wide silicified zone 100m northeast of hole HB12-100.
Dr. Bill Pearson, P.Geo., President and CEO of Castillian, commented: "This drill program was successful in outlining a major new near surface zone in the Connector Zone that has the potential to add significantly to our already strong mineral resource base. Our exploration team, support staff and drill contractor did a tremendous job completing the planned program in less than two months and on budget." Pearson continued: "We are currently completing interpretation of all of the new drilling data and planning the next drill program. The next program will focus on testing the new target zone and expanding existing resources, especially those that are potentially open pittable. In addition, our technical work has identified a number of areas near the current resource where there is potential to increase the overall grade of the resource."
Mr. David Copeland, P.Geo., Chief Geologist added: "Drilling within the Connector Zone demonstrates continuity of the alteration and mineralizing systems along a shallow southwest plunge between the Hope Brook Deposit and the 240 Zone. The thickness of the silicified zones and encapsulating argillic alteration zone is similar to that seen in the former Hope Brook Mine and 240 Zone." Mr. Copeland continued: "A newly recognized fold system affects the rocks of the 240 and Connector Zone areas, the identification of which has been driven by drilling outside of the main Hope Brook Mine area. This fold system explains why the main silicified horizon southwest of the Hope Brook Mine does not come to surface and why shallow historical drilling within the area failed to intersect both of the zones. This interpretation is corroborated by geophysical data. Further structural modelling and geological work in progress is designed to provide a better understanding of where to target gold mineralization within this extensive fold system."