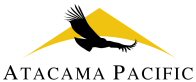 TORONTO, ONTARIO -- (Marketwire) -- 01/17/13 -- Atacama Pacific Gold Corporation (TSX VENTURE: ATM) ("Atacama Pacific") is pleased to report drilling results from the 20,000-metre Phase IV infill drilling program at its 100% owned Cerro Maricunga oxide gold project as well as provide an update on ongoing water exploration activities.

Highlights from the infill drill program, summarized in Table 2 (attached), include:


--  132 metres grading 0.70 grams per tonne gold ("g/t Au") from the Crux    Zone (CMD-228)--  78 metres grading 1.03 g/t Au from the Crux Zone (CMR-229) including    1.73 g/t Au over 36 metres--  68 metres grading 0.39 g/t Au followed by 86 metres grading 0.58 g/t Au    from a new extension of the Crux Zone (CMR-246)
"With the 20,000-metre Phase IV infill drilling program progressing well, the main focus of Atacama Pacific is the completion of its Preliminary Economic Assessment ("PEA") scheduled for release prior to the end of this month," said Carl Hansen, President and CEO of Atacama Pacific. "The PEA will outline the optimum mining and processing parameters and establish, within limits, the associated capital and operating costs for an open pit mining and heap leach processing operation at Cerro Maricunga."
The core areas of the Lynx,
Phoenix
and Crux Zones have largely been drilled on 50 metre sections and the current infill drilling program is targeting potential extensions of the known mineralization, the margins of the resource model, and as well as confirming the block model interpretation. Infill drilling is also focused on determining the size and orientation of the Pollux Zone which was discovered towards the end of the Phase III drill program.
Drilling in the Pollux Zone is suggesting the gold mineralization may have an east-west orientation along a northwest striking trend similar to the Crux Zone. Further drilling, targeting the higher grade areas, is planned to confirm the orientation of the Pollux Zone mineralization.
Drill holes CMR-239 and CMR-241, drilled between the Crux and
Phoenix
zones in an area previously considered barren, returned significant intervals of +0.2 g/t Au mineralization including 62 metres grading 0.33 g/t Au and 44 m grading 0.47 g/t Au. Continued drilling will determine the extent of the mineralization in this area.
Atacama Pacific has completed 2 water exploration wells to depths of 185 and 224 metres in two aquifers within the boundaries of its AMX water exploration concessions. Both exploration wells hit significant water flows. A drill hole testing a third aquifer is presently at 92 metres with a target depth of 200 to 250 metres. A fourth drill hole may be undertaken. Upon completion of the water exploration drilling, a series of wells will be drilled to facilitate pump tests to determine sustainable water flow rate as required for permitting. As part of the pending PEA, Atacama Pacific has received a quote for the construction of the pipeline from the AMX concessions to Cerro Maricunga.
The measured and indicated ("M&I") resources at the Cerro Maricunga Gold Project, summarized in Table 1, presently stand at 2.667 million ounces of gold in 163.9 million tonnes grading 0.51 g/t Au, at a 0.3 g/t Au cut-off, with a further 1.810 million ounces of gold in 120.7 million tonnes grading 0.47 g/t Au in the inferred category. The entire resource is associated with oxidized host rocks.
Table 1 - Cerro Maricunga Resource Estimate----------------------------------------------------------------------------                                      Measured and        Measured     Indicated         Indicated              Inferred----------------------------------------------------------------------------Cut-   Ton-          Ton-          Ton-                  Ton-off     nes  Grade    nes  Grade    nes  Grade    Gold    nes  Grade    Gold(g/t (mill-   (g/t (mill-   (g/t (mill-   (g/t  Ounces (mill-   (g/t  OuncesAu)   ions)    Au)  ions)    Au)  ions)    Au) (OOO's)  ions)    Au) (OOO'S)----------------------------------------------------------------------------0.2    60.4   0.44  187.5   0.41  247.9   0.42   3,344  226.3   0.36   2,654----------------------------------------------------------------------------0.3    40.7   0.53  123.1   0.50  163.9   0.51   2,667  120.7   0.47   1,810----------------------------------------------------------------------------0.4    24.5   0.64   71.2   0.61   95.8   0.62   1,912   57.8   0.60   1,118----------------------------------------------------------------------------0.5    15.1   0.77   42.8   0.72   57.9   0.74   1,370   32.3   0.73     754----------------------------------------------------------------------------