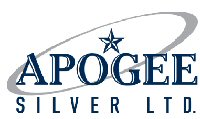 TORONTO, ONTARIO -- (Marketwire) -- 01/17/13 -- Apogee Silver Ltd. ("Apogee" or the "Company") (TSX VENTURE: APE) has received the results of a positive Feasibility Study to develop the Pulacayo silver-lead-zinc deposit located at its 100% controlled Pulacayo property in southwestern Bolivia.

Highlights of the Feasibility Study (FS) (1,2,3):


--  Pre-tax Internal Rate of Return of 47%--  After tax Internal Rate of Return of 32%--  Total Cash Operating Costs of $8.44/oz AgEq. (4,5)--  2.6 million silver equivalent ounces(4) produced/yr average for the    first six years--  After-tax NPV of US$ 72.5 million--  Annual pre-tax cash flow at production maturity of $39.3 million--  Annual after-tax cash flow at production maturity of $24.0 million--  Project capital cost of US$ 46 million--  Life of Mine - 12 years
The Feasibility Study confirms the technical and financial viability of a silver-lead-zinc mine and base metals concentrator at Pulacayo that will form a platform from which full-scale development of the Pulacayo-Paca resource can take place. The mining scenario presented in the FS considers only 39% of the silver ounces estimated in the Pulacayo Mineral Resource summary (see Table 4 below). It also excludes the prospective Paca project adjacent to the Pulacayo property (see the Company's press release dated Feb 19, 2007). The highlights of the Feasibility Study are summarized in Table 1.
CEO Neil T. Ringdahl stated, "We are delighted with this result for a resource that still shows so much exploration potential. Although the existing mineral resources at Pulacayo could support a significantly higher production profile, it is the Company's preference at this time to build a robust underground operation with a conservative footprint and reduced capital cost. In this way, technical execution risk is reduced while allowing subsequent growth to take place at a pace that respects the needs and concerns of local communities - something we take very seriously. The initial mining scenario forms the foundation for future production growth and could provide the Company with the opportunity to fund future expansion from internally generated cash flow."
Table 1 - Base Case Projected Operating Highlights and Project Performanceof the Feasibility Study----------------------------------------------------------------------------Financial Analysis----------------------------------------------------------------------------   Internal Rate of Return (IRR), pre-tax                              47.1%----------------------------------------------------------------------------   Average annual cash flow, pre tax                        $   27.0 million----------------------------------------------------------------------------   Annual pre-tax cash flow at production maturity          $   39.3 million----------------------------------------------------------------------------   Annual after-tax cash flow at production maturity        $   24.0 million----------------------------------------------------------------------------   Net Present Value (NPV@8%), pre-tax                      $    126 million----------------------------------------------------------------------------   Internal Rate of Return (IRR), after-tax                            32.1%----------------------------------------------------------------------------   Average annual cash flow, after tax                      $   17.8 million----------------------------------------------------------------------------   Net Present Value (NPV@8%), after-tax                    $   72.1 million----------------------------------------------------------------------------   Silver price assumption(3)                               $          28/oz----------------------------------------------------------------------------   Lead price assumption(3)                                 $        0.89/lb----------------------------------------------------------------------------   Zinc price assumption(3)                                 $        1.00/lb----------------------------------------------------------------------------   After tax capital payback period                                3.9 years----------------------------------------------------------------------------   Net Smelter Return (NSR) ($/tonne milled)(6)             $          171/t----------------------------------------------------------------------------Capital Costs(7)----------------------------------------------------------------------------   Project capital                                          $   45.9 million----------------------------------------------------------------------------                                                            $   55.4 million   Maximum cash funding (incl. working capital)                   (month 19)----------------------------------------------------------------------------   Sustaining capital (Life of Mine)                        $   41.1 million----------------------------------------------------------------------------Operating Costs (Average over the life of mine)----------------------------------------------------------------------------   Mining ($/t milled)                                      $        30.65/t----------------------------------------------------------------------------   Processing ($/t milled)                                  $        15.21/t----------------------------------------------------------------------------   G & A ($/t milled)(8)                                    $         9.02/t----------------------------------------------------------------------------   Mine operating cost ($/t milled)                         $        54.88/t----------------------------------------------------------------------------   Cash operating cost ($/oz AgEq.)(4,5)                    $        8.44/oz----------------------------------------------------------------------------   Cash operating cost ($/oz)(5)                            $       11.20/oz----------------------------------------------------------------------------Production Data----------------------------------------------------------------------------   Life of Mine (LoM)                                             12.5 years----------------------------------------------------------------------------   Number of Years at steady state (1,000tpd)                        9 years----------------------------------------------------------------------------                                                              360,000 tpa or   Ore tonnes milled                                               1,000 tpd----------------------------------------------------------------------------   LoM metallurgical recovery (silver)                                 86.3%----------------------------------------------------------------------------   LoM metallurgical recovery (lead)                                   85.6%----------------------------------------------------------------------------   LoM metallurgical recovery (zinc)                                   85.8%----------------------------------------------------------------------------   Silver produced over the LoM                              19.5 million oz----------------------------------------------------------------------------                                                             67,021 t conc./   Lead produced over the LoM                                70,9 Mlbs metal----------------------------------------------------------------------------                                                                   104,903 t                                                                conc./ 117.9   Zinc produced over the LoM                                     Mlbs metal----------------------------------------------------------------------------   Average annual silver produced (oz AgEq. 1st steady       2.56 million oz    state production)(4)                                              Equiv.----------------------------------------------------------------------------   Average annual silver produced (oz 1st steady state    production)                                              1.94 million oz----------------------------------------------------------------------------   Average annual equivalent silver produced (oz AgEq.       2.11 million oz    over LoM)(4)                                                       Equiv----------------------------------------------------------------------------                                                             1.63 million oz   Average annual silver produced (oz over LoM)                        Equiv----------------------------------------------------------------------------