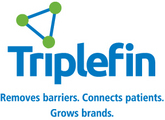 CINCINNATI, OH -- (Marketwire) -- 01/16/13 -- Triplefin, an industry leader providing pharmaceutical marketing support solutions, including patient assistance programs; patient reimbursement support services; traditional and alternative Rx sampling; and patient adherence solutions, today announced that it will be showcasing its Patient Assistance Solutions at CBI's 14th Annual PAP - Patient Assistance and Access Programs Conference in Baltimore, Maryland from March 13 - 15.

At its booth, Triplefin will feature its innovative marketing support services for pharmaceutical manufacturers. Key business development and implementation leaders will be available to discuss its fully integrated and flexible Patient Assistance Programs, which use the most advanced technology to support its platform of services.

Triplefin will present information about its state-of-the-art Patient Assistance Portal and Contact Center, which feature highly trained Patient Assistance and Reimbursement Counselors who assist patients who have no insurance or limited insurance, in finding affordable solutions to get the medication they need.

"As health care reforms continue to evolve, it's critical to stay ahead in the latest industry trends and set standards for patient assistance methods and technologies to help the uninsured and underinsured get and stay on therapy," said Greg LaLonde, President and CEO of Triplefin.

"This year's conference gives us an opportunity to demonstrate our commitment to serving as 'the voice of your brand' for pharmaceutical manufacturers. We offer a competitive edge with an integrated platform of patient assistance, access and adherence solutions that are customizable and cost efficient."

The CBI PAP - Patient Assistance and Access Programs Conference runs from March 13-15, 2013 at the Hyatt Regency Hotel in Baltimore, Maryland. To learn more about Triplefin's marketing support services platform, please visit Triplefin at our booth at the conference.

About Triplefin

Triplefin, privately owned and headquartered in Cincinnati, Ohio, is recognized as the premier provider of pharmaceutical marketing support solutions. For more than 30 years, Triplefin has continually helped pharmaceutical brand managers remove barriers to brand access and adherence and put prescription brands into patients' hands... and keep them there throughout treatment.

Today, more than 45 pharmaceutical manufacturing companies (including 15 of the top 20), representing more than 150 brands across multiple therapeutic categories, have connected with Triplefin and experienced success with Triplefin's solutions. Our mission is to connect patients, providers, pharmacies, and payers to improve outcomes and to remove brand challenges with access, acquisition, and adherence.

About CBI

CBI, a subsidiary of Advanstar, is the leading provider of market-driven, unbiased conferences for the pharmaceutical, biotechnology, medical device and healthcare industries. CBI offers specialized information presented in interactive formats by thought leaders and regulators. CBI's conferences provide a unique platform for concrete, real-life examples that can be applied to any organization immediately, significantly impacting both costs and revenue. For more information, please visit www.cbinet.com.

For more information about Triplefin's solutions, please visit www.triplefin.com or connect with LeTicia Hallstead, Executive Vice President, Business Development at 855-TRPLFIN (855-877-5346).