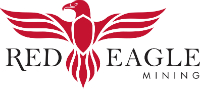 VANCOUVER, BRITISH COLUMBIA -- (Marketwire) -- 01/16/13 -- Red Eagle Mining Corporation (TSX VENTURE: RD)(OTCQX: RDEMF) is pleased to announce that Conestoga-Rovers & Associates (CRA) have commenced a NI 43-101 compliant Environmental Impact Assessment (EIA) and Kappes Cassiday and Associates (KCA) have commenced a Detailed Metallurgical Testwork and Process Design Program for the San Ramon deposit, Santa Rosa gold project, Colombia. In order to manage the transition to development Red Eagle Mining is also very pleased to announce the appointment of Alan Baker - Project Director, Jeff Toohey - Vice President Exploration and Bob Bell - Chief Operating Officer.

CRA is an internationally recognized environmental consulting group which employs 3,000 people in over 90 offices - principally in the Americas. The EIA will rely on the Environmental Baseline Study being conducted by the Universidad de Antioquia and the Fundacion Universitaria Catolica del Norte (news release dated September 11, 2012) of which the first stage was completed in December 2012.

KCA are a world-class process metallurgical consulting group with extensive laboratory facilities specializing in gold extraction technology in Reno, Nevada. The testwork program will evaluate the possible process options for the San Ramon ore, including heap leaching, carbon-in-pulp (CIP), carbon-in-leach (CIL), and floatation concentration processing. Additionally, tailings disposal options will be evaluated. As this testwork program progresses, results will be incorporated into the Preliminary Economic Assessment (PEA) being prepared by Mine Development Associates (MDA) (news release dated September 11, 2012).

"We are very pleased to be able to continue taking the San Ramon deposit towards our goal of development in a timely process," comments Ian Slater, Chief Executive Officer. "We are also delighted with the addition of both Alan Baker and Jeff Toohey and their wealth of responsible mine development experience."

Mr. Baker has over 35 years of experience in design and construction of gold projects including surface and underground mining and process plants. Earlier in his career Mr. Baker was Senior Manager - Projects for AngloGold Ashanti in Ghana. Mr. Baker joins Red Eagle Mining from Eldorado Gold Corp. Mr. Baker is responsible for the design, permitting and construction of Red Eagle Mining's San Ramon gold deposit and is based in Medellin, Colombia.

Mr. Toohey has over 38 years of experience in mineral exploration and development in South America. Mr. Toohey was a Senior Geologist for twelve years with Teck Resources Limited in Chile, Argentina and Peru. Most recently Mr. Toohey was Vice President Exploration for Peregrine Metals Ltd which was purchased by the Stillwater Mining Company in 2011. Mr. Toohey was responsible for the acquisition, exploration, drilling delineation and PEA of Stillwater's flagship Altar copper and gold project in Argentina. Mr. Toohey replaces Mr. Mike Johnson as Vice President Exploration. The board would like to thank Mr. Johnson for his service and wish him well in his future endeavours.