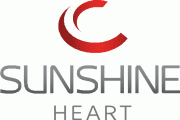 EDEN PRAIRIE, MN and SYDNEY, AUSTRALIA -- (Marketwire) -- 01/15/13 -- Sunshine Heart, Inc. (NASDAQ: SSH) (ASX: SHC), a global medical device company focused on innovative technologies for moderate heart failure, today announced that it has entered into a common stock purchase agreement with Aspire Capital Fund, LLC. Under the Purchase Agreement, Aspire Capital has committed to purchase up to $25 million of Sunshine Heart's common stock from time to time as directed by the Company over two years at prices based on the market price at the time of each sale after the SEC declares a registration statement effective relating to the transaction. Upon commencement of the funding under the Purchase Agreement, Aspire Capital has also agreed to make an initial investment of $1 million at a price equal to the average of the closing prices of the common stock for the five business days prior to such purchase.

"We are very pleased to have entered this agreement with Aspire Capital Fund as the agreement structure provides us with added financial strength and flexibility," said Dave Rosa, CEO of Sunshine Heart. "We intend to use this prudently as one of the available tools to raise equity only when it is opportunistic in the marketplace. This provides the Company with additional security as we conduct our U.S. FDA pivotal and European post-market trials and advance towards commercialization of the C-Pulse System in the U.S. and Europe. Furthermore, we believe Aspire's commitment, along with their reputation as a long-term, institutional investor, demonstrates confidence in our technology and management team."

"We are very excited and proud to add Sunshine Heart to our investment portfolio," said Erik J. Brown, Principal of Aspire Capital. "Based on the promising 12-month feasibility data announced in late 2012, we strongly believe the C-Pulse System represents a unique and highly differentiated approach to treating heart failure and that it will ultimately provide patients with improved outcomes and quality of life relative to conventional heart failure devices."

Key aspects of the Purchase Agreement include:

•Sunshine Heart will control the timing and amount of any sales of common stock to Aspire and will know the sales price before directing Aspire to purchase shares; •Aspire has no right to require any sales by the Company, but is obligated to make purchases as the Company directs, in accordance with the terms of the Purchase Agreement; •There are no limitations on use of proceeds, financial covenants, restrictions on future financings, rights of first refusal, participation rights, penalties or liquidated damages in the Purchase Agreement; •The Purchase Agreement may be terminated by Sunshine Heart at any time, at its discretion, without any additional cost or penalty; and •Sunshine Heart has issued to Aspire Capital common shares as consideration for entering into the purchase agreement.

Under the Purchase Agreement, the Company shall not be permitted to issue, and Aspire Capital shall not be permitted to purchase, any shares of Common Stock if such issuance would breach the Company's obligations or be prohibited by the rules and regulations of the Nasdaq Capital Market or the Australian Securities Exchange or otherwise if such shares proposed to be issued and sold, when aggregated with all other shares of Common Stock then owned beneficially by Aspire Capital and its affiliates would result in the beneficial ownership by Aspire Capital and its affiliates of more than 13.99% of the Company's outstanding shares of Common Stock or 19.99% if during the term of Purchase Agreement the Company's securities cease to be listed on ASX.