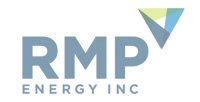 CALGARY, ALBERTA -- (Marketwire) -- 01/15/13 -- RMP Energy Inc. ("RMP" or the "Company") (TSX: RMP) is pleased to announce record fourth quarter production and provide an operations update on Ante Creek, Waskahigan, Grizzly and South Ante Creek.

Operations Update: Corporate Production

As a result of RMP's successful exploration and development drilling program, the Company delivered record quarterly production for the fourth quarter 2012 of approximately 6,500 boe/d, weighted 47% light oil and 3% NGLs. RMP's annual average daily production for fiscal 2012 is estimated at approximately 5,300 boe/d, achieving its originally-guided 2012 production target of 5,000 to 5,500 boe/d and representing a 53% increase over fiscal 2011 average daily production of 3,472 boe/d (weighted 17% light oil and 8% NGLs).

Operations Update: Ante Creek, West Central Alberta

Ante Creek Montney Light Oil Production

To-date, RMP has three, 100% working interest light oil wells drilled at Ante Creek. Production in the area has been restricted to one well as a result of current battery capacity and natural gas processing constraints. The initial production performance from RMP's first two Montney horizontal oil wells (4-35-66-24W5 and 13-26-66-24W5) has been very significant. On November 14, 2012, the 4-35 well was deliberately shut-in to accommodate the 13-26 well start-up. At that time, the well was producing, without artificial lift, approximately 1,200 bbls/d of light gravity crude oil (37 degree API) and 0.9 MMcf/d of associated natural gas, for an oil equivalent rate of approximately 1,350 boe/d. After 87 producing days, the 4-35 well produced 90,000 bbls of light oil and approximately 66 MMcf of associated solution gas, for a combined cumulative production of 101,000 boe (90% light oil).

Production thus far from RMP's Ante Creek 13-26 well has demonstrated a very strong production profile. The 13-26 well was brought on-stream on November 14, 2012 and is presently flowing, without artificial lift, approximately 1,300 bbls/d of light oil (37 degree API) and 1.1 MMcf/d of associated natural gas, for an oil equivalent rate of 1,480 boe/d. After 55 producing days, the 13-26 well has produced an estimated 90,000 bbls of oil and approximately 60 MMcf of natural gas, for a combined cumulative production of approximately 100,000 boe (90% light oil).

Both of these wells have not demonstrated any material production decline since being on-stream and the Company has already recovered its drilling and completion capital investment through significant field cash flow generation from each of these wells.

RMP's third Ante Creek well (1-36-66-24W5) is presently shut-in, awaiting the Ante Creek oil battery expansion. The 1-36 well was flow-tested in November 2012 and over the first 40 hour flow back, the well recovered all of the fluid used to fracture the well. During the final 24 hours of a 69 hour new oil production test, it produced approximately 2,421 bbls/d of 37 degree API crude oil and 3.16 MMcf/d of associated solution gas for a total of approximately 2,950 boe/d at an average flowing tubing wellhead pressure of 584 psi. Please refer to important Reader Advisories at the end of this news release.