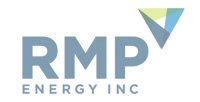 CALGARY, ALBERTA -- (Marketwire) -- 01/15/13 -- RMP Energy Inc. ("RMP" or the "Company") (TSX: RMP) is pleased to announce record fourth quarter production and provide an operations update on Ante Creek, Waskahigan, Grizzly and South Ante Creek.

Operations Update: Corporate Production

As a result of RMP's successful exploration and development drilling program, the Company delivered record quarterly production for the fourth quarter 2012 of approximately 6,500 boe/d, weighted 47% light oil and 3% NGLs. RMP's annual average daily production for fiscal 2012 is estimated at approximately 5,300 boe/d, achieving its originally-guided 2012 production target of 5,000 to 5,500 boe/d and representing a 53% increase over fiscal 2011 average daily production of 3,472 boe/d (weighted 17% light oil and 8% NGLs).

Operations Update: Ante Creek, West Central Alberta

Ante Creek Montney Light Oil Production

To-date, RMP has three, 100% working interest light oil wells drilled at Ante Creek. Production in the area has been restricted to one well as a result of current battery capacity and natural gas processing constraints. The initial production performance from RMP's first two Montney horizontal oil wells (4-35-66-24W5 and 13-26-66-24W5) has been very significant. On November 14, 2012, the 4-35 well was deliberately shut-in to accommodate the 13-26 well start-up. At that time, the well was producing, without artificial lift, approximately 1,200 bbls/d of light gravity crude oil (37 degree API) and 0.9 MMcf/d of associated natural gas, for an oil equivalent rate of approximately 1,350 boe/d. After 87 producing days, the 4-35 well produced 90,000 bbls of light oil and approximately 66 MMcf of associated solution gas, for a combined cumulative production of 101,000 boe (90% light oil).

Production thus far from RMP's Ante Creek 13-26 well has demonstrated a very strong production profile. The 13-26 well was brought on-stream on November 14, 2012 and is presently flowing, without artificial lift, approximately 1,300 bbls/d of light oil (37 degree API) and 1.1 MMcf/d of associated natural gas, for an oil equivalent rate of 1,480 boe/d. After 55 producing days, the 13-26 well has produced an estimated 90,000 bbls of oil and approximately 60 MMcf of natural gas, for a combined cumulative production of approximately 100,000 boe (90% light oil).

Both of these wells have not demonstrated any material production decline since being on-stream and the Company has already recovered its drilling and completion capital investment through significant field cash flow generation from each of these wells.

RMP's third Ante Creek well (1-36-66-24W5) is presently shut-in, awaiting the Ante Creek oil battery expansion. The 1-36 well was flow-tested in November 2012 and over the first 40 hour flow back, the well recovered all of the fluid used to fracture the well. During the final 24 hours of a 69 hour new oil production test, it produced approximately 2,421 bbls/d of 37 degree API crude oil and 3.16 MMcf/d of associated solution gas for a total of approximately 2,950 boe/d at an average flowing tubing wellhead pressure of 584 psi. Please refer to important Reader Advisories at the end of this news release.

At Ante Creek, the Company holds a 100% working interest in a six section, contiguous acreage block, on which RMP has identified an additional twenty-one, high impact, light oil horizontal drilling locations. The Company is scheduled to commence drilling its fourth Ante Creek horizontal well (13-27-66-24W5) the week of January 21, 2013 and expects to drill its fifth well by March 31, 2013.

Firm Service Processing Arrangement

In order to alleviate the gas processing constraints at Ante Creek, RMP successfully arranged firm service capacity at an area operator's gas plant, providing for the processing of solution gas associated with its Montney oil production. Firm service of 3.5 MMcf/d has been negotiated for calendar 2013, with 2.0 MMcf/d locked-in for both calendar 2014 and 2015. The Company is expanding its Ante Creek oil battery in order to increase processing capacity of its crude oil and associated solution gas. This expansion includes additional tank storage, multiple truck-loading stations and additional compression. The expansion is expected to be operational by mid-February 2013, enabling RMP to produce multiple wells.

Operations Update: Waskahigan, West Central Alberta

At Waskahigan during 2012, RMP successfully drilled and completed eleven, 100% working interest horizontal Montney oil wells. Initial production of these wells, on average, is tracking the Company's internal expectations, with an estimated ultimate recovery for each well of 160,000 bbls of oil (220,000 boe including associated solution gas). The thirty-day (producing) initial production (IP) average for nine of the wells drilled in 2012 is approximately 450 bbls/d of light oil (600 boe/d including 25% associated solution gas). The last two Waskahigan wells drilled in 2012 were recently tied-in and brought on-stream and have not yet achieved thirty days of production history.

RMP is currently drilling its twenty-seventh (27.0 net) Montney horizontal oil well (3-11-64-23W5) at Waskahigan, which is programmed to be the Company's longest horizontal well to-date, with a total measured depth of approximately 4,300 metres and a 1,900 metre horizontal section. A total of twenty (20.0 net) horizontal oil wells have been drilled by RMP with 100% success since the corporate re-structuring of Orleans Energy in May 2011.

At Waskahigan, RMP continues to establish and build a core Montney light oil resource project, with the requisite size and scale to drive significant future production and cash flow growth. The Company has accumulated an acreage position at Waskahigan encompassing 37 sections at 100% working interest providing for a future light oil drilling inventory of approximately 120 locations.

Exploration Drilling: Grizzly, West Central Alberta

At Grizzly, to the southeast of Waskahigan, RMP successfully drilled and completed an exploration well located at 12-26-62-23W5 (100% working interest), with test results confirming the existence of a Montney oil pool. The 12-26 exploration well was drilled to a total measured depth of 3,750 metres, with 1,438 metres of horizontal section. Completion operations encompassed an 18 stage, 270 tonne fracture stimulation (average 15 tonnes per stage). Flow-back results have demonstrated the Montney reservoir to be oil bearing and gas charged. The well is currently undergoing a new oil production test subsequent to an 84 hour clean-up and full recovery of the fluid used to fracture the well. During the first twenty-four hours of the current production test, it flowed approximately 700 bbls/d of 40 degree API crude oil (25% water cut) and 1.6 MMcf/d of associated solution gas for a total of approximately 1,000 boe/d at a flowing tubing wellhead pressure of approximately 300 psi. Please refer to important Reader Advisories at the end of this news release.

The Company is currently drilling a second, 100% working interest Montney horizontal delineation well at Grizzly (4-5-63-22W5). The 4-5 well is expected to undergo fracture stimulation and production testing by the end of January 2013.

At Grizzly, the Company is encouraged by its initial exploration drilling results and recently increased its working interest position to 100% on its 12.25 sections (7,840 acres) of land, with the acquisition of a partners' 30% working interest. The mineral rights include the Montney formation, however, they exclude the deep rights. The purchase consideration was budgeted within RMP's previously-disclosed 2013 Capital Budget.

Exploration Drilling: South Ante Creek, West Central Alberta

At South Ante Creek, RMP drilled, completed and tested the Montney formation at 4-14-65-23W5M. The 4-14 exploration well was drilled to a total measured depth of 3,681 metres, with 1,624 metres of horizontal section. Completion operations encompassed an 18 stage, 270 tonne fracture stimulation (average 15 tonnes per stage). During a 60 hour clean-up and test, the 4-14 well recovered 79% of its frac load fluid before being shut-in for pressure build-up. Geologically, the 4-14 well is believed to have encountered reservoir quality sand within the Montney oil window, however, rock permeability appears to be low at this location which is prohibiting flow of commercial quantities of hydrocarbons. The Company plans to undertake remedial operations on this well in order to assess the wellbore's productive potential, as well as evaluate the geological potential for further drilling on the Company's five section acreage position.

RMP has an updated corporate presentation available on its website at www.rmpenergyinc.com.

Abbreviations


----------------------------------------------------------------------------bbl or bbls barrel or barrels Mcf/d thousand cubic feet per day----------------------------------------------------------------------------Mbbl thousand barrels MMcf/d million cubic feet per day----------------------------------------------------------------------------bbls/d barrels per day MMcf Million cubic feet----------------------------------------------------------------------------boe barrels of oil Bcf billion cubic feet equivalent----------------------------------------------------------------------------Mboe thousand barrels of oil psi pounds per square inch equivalent----------------------------------------------------------------------------boe/d barrels of oil kPa kilopascals equivalent per day----------------------------------------------------------------------------NGLs natural gas liquids WTI West Texas Intermediate----------------------------------------------------------------------------
Reader Advisories
Any references in this news release to initial and/or final raw test or production rates and/or "flush" production rates are useful in confirming the presence of hydrocarbons, however, such rates are not determinative of the rates at which such wells will commence production and decline thereafter. These test results are not necessarily indicative of long-term performance or ultimate recovery. While encouraging, readers are cautioned not to place reliance on such rates in calculating the aggregate production for the Company.
The information in this news release contains certain forward-looking statements. These statements relate to future events or our future performance. All statements other than statements of historical fact may be forward-looking statements. Forward-looking statements are often, but not always, identified by the use of words such as "seek", "anticipate", "budget", "plan", "continue", "estimate", "approximate", "expect", "may", "will", "project", "predict", "potential", "targeting", "intend", "could", "might", "should", "believe", "would" and similar expressions. More particularly and without limitation, this new release contains forward looking information relating to: fourth quarter 2012 and fiscal 2012 average daily production levels and light oil and NGLs weighting, estimated cumulative production for the Ante Creek 4-35 and 13-26 wells, the anticipated on-stream date for the Ante Creek 1-36 well, timing of an Ante Creek well at 13-27 and the timing of RMP's fifth well at Ante Creek, firm service arrangement details at Ante Creek and associated volumes, timing of Ante Creek battery expansion, estimated ultimate recovery data of Waskahigan wells, thirty-day producing initial production averages of Waskahigan wells drilled in 2012, RMP's plan at Waskahigan to establish and build a core Montney light oil resource project with the requisite size and scale to drive significant future production and cash flow growth, drilling inventories at Waskahiagn and Ante Creek, the timing of completion operations on the Company's Grizzly 4-5 well, and RMP's plans in respect of its 4-14 well at South Ante Creek.
These statements involve substantial known and unknown risks and uncertainties, certain of which are beyond the Company's control, including: the impact of general economic conditions; industry conditions; changes in laws and regulations including the adoption of new environmental laws and regulations and changes in how they are interpreted and enforced; fluctuations in commodity prices and foreign exchange and interest rates; stock market volatility and market valuations; volatility in market prices for oil and natural gas; liabilities inherent in oil and natural gas operations; changes in income tax laws or changes in tax laws and incentive programs relating to the oil and gas industry ; geological, technical, drilling and processing problems and other difficulties in producing petroleum reserves; and obtaining required approvals of regulatory authorities. The Company's actual results, performance or achievement could differ materially from those expressed in, or implied by, such forward-looking statements and, accordingly, no assurances can be given that any of the events anticipated by the forward-looking statements will transpire or occur or, if any of them do, what benefits that the Company will derive from them. The Company's forward-looking statements are expressly qualified in their entirety by this cautionary statement. Except as required by law, the Company undertakes no obligation to publicly update or revise any forward-looking statements.
In this news release RMP has adopted a standard for converting thousands of cubic feet ("mcf") of natural gas to barrels of oil equivalent ("boe") of 6 mcf:1 boe. Use of boes may be misleading, particularly if used in isolation. The boe rate is based on an energy equivalent conversion method primarily applicable at the burner tip and does not represent a value equivalency at the wellhead. Given that the value ratio based on the current price of crude oil as compared to natural gas is significantly different than the energy equivalency of the 6:1 conversion ratio, utilizing the 6:1 conversion ratio may be misleading as an indication of value.
Field operating income or field cash flow refers to realized wellhead revenue less royalties, operating expenses and transportation costs. Field netback is field operating income per barrel of oil equivalent. Field operating income and netback are not recognized measures under IFRS and does not have a standardized meaning.


Contacts:
RMP Energy Inc.
John Ferguson
President and Chief Executive Officer
(403) 930-6303
john.ferguson@rmpenergyinc.com

RMP Energy Inc.
Dean Bernhard
Vice President, Finance and Chief Financial Officer
(403) 930-6304
dean.bernhard@rmpenergyinc.com
www.rmpenergyinc.com