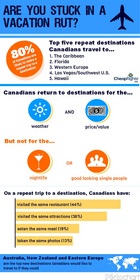 In this infographic, Cheapflights.ca breaks down its survey results on Canadian travellers' vacation habits. See where they are going? Why they keep going back? What they are doing there? And where they'd ideally love to go?



TORONTO -- (Marketwire) -- 01/15/13 -- Ever get a déjà vu feeling when on vacation? Maybe that's because you are stuck in a holiday rut. A study of 1,050 Canadians conducted by Cheapflights.ca, the online leader in finding and publishing travel deals, found that more than 80 per cent of us are repeat vacationers who are likely to return multiple times to the same destination.

"We set out to find out where Canadians go and why," said Melisse Hinkle, site editor for Cheapflights.ca. "We learned that, while travellers dream of trips to Australia, they find themselves in Florida, again and again. Another year means another trip to the same Disney Resort or the same beach condo. But the real questions are: 'why do people repeat their visits?' and 'what would make them change?'"

We looked at where people travel to, why they go to those places, and where they'd love to go. Take a look at what we found and how the travel habits of men and women differ:

Where they go:

Faced with long and harsh winters, it's no surprise Canadians seem to love the sun. The Caribbean was the top choice for repeated visits, with almost 13 per cent of votes across the board. In fact, it was the winner among men (12.2 per cent) as well as women (13 per cent). Likewise, Florida scored consistently second with 10.3 per cent of the overall vote and 10.4 per cent of men and 10.2 percent of women selecting it as their most likely repeat destination. That's where the agreement ends. The Maritimes, Western Europe and Mexico were the next three top choices for women. For men, Las Vegas and the Southwest U.S., Western Europe and Hawaii rounded out the top five.

Why they go:

Great weather and good prices, in that order, top the chart for reasons to return to a destination. Other leading reasons were convenience related with "just the best holiday I've ever found" and "easy to get to" ranked as most important factors. Tied for fifth were "peace of mind/no worries when I get there" and "safety". However, when you slice by gender, priorities change a bit. Price beats great weather for men and "my partner likes it" comes in at number six (versus number 10 for women). For women, safety jumps to number three in importance. Also of note: "the number of good-looking people" and "great bars and night life" were among the least important reasons for returning to a place.

What they do there:

Proving we all fall into routines, 44 per cent of Canadians surveyed reported they ate at the same restaurant on repeat visits, with 36 per cent visiting the same attractions, more than 32 per cent staying at the same hotel and almost 20 per cent eating the same meal over again. A full 24 per cent have gone back with one or more new groups of friends (and almost nine per cent with a different partner or spouse).