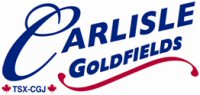 TORONTO, ONTARIO -- (Marketwire) -- 01/15/13 -- Carlisle Goldfields Limited ("Carlisle" or the "Company") (TSX: CGJ)(OTCQX: CGJCF) is pleased to announce its Linkwood Deposit initial resource estimate totaling 783,000 ounces of gold (Au) in the inferred category grading 1.16 g/t. In addition the Linkwood Deposit resource estimate has an Indicated resource of 37,000 ounces of gold also grading 1.16 g/t.

Carlisle's President and CEO, Bruce Reid commented that: "The addition of the Linkwood resource estimate provides considerable gold ounces to our total Lynn Lake Gold Camp resource base. Both Burnt Timber and Linkwood have proven that there is significant upside for development and future exploration along strike on the Johnson Shear. We will follow up on known historical gold zones west along the Johnson Shear from the Linkwood deposit in 2013."


---------------------------------------------------------------------------- Tonnes Au Grade g/t Contained Au Ounces----------------------------------------------------------------------------Indicated 984,000 1.16 37,000----------------------------------------------------------------------------Inferred 21,004,000 1.16 783,000----------------------------------------------------------------------------1. Mineral resources which are not mineral reserves do not have demonstrated economic viability. The estimate of mineral resources may be materially affected by environmental, permitting, legal, title, taxation, sociopolitical, marketing, or other relevant issues.2. The quantity and grade of reported Inferred resources in this estimation are uncertain in nature and there has been insufficient exploration to define these Inferred resources as an Indicated or Measured mineral resource and it is uncertain if further exploration will result in upgrading them to the Indicated or Measured mineral resource category.3. The mineral resources in this press release were estimated using the inverse cubed grade interpolation method and the CIM Standards on Mineral Resources and Reserves, Definitions and Guidelines prepared by the CIM Standing Committee on Reserve Definitions adopted by CIM Council.4. The gold price used was the August 31, 2012 two year trailing average of US$1,555/oz with a process recovery of 95%. The US$ exchange rate was $1.00.5. Process costs used were C$15/tonne and G&A was C$4/tonne. Open pit mining costs were C$3.25/tonne for mineralized material and C$2.50/tonne for waste. Open pit slopes were 50 degrees.6. The Company's initial resource estimate used a 0.4 g/t cut-off grade.
In 2012, Carlisle launched a 25 hole drill program on the Linkwood deposit. The Linkwood deposit is located along strike approximately 4 km west of the Burnt Timber Project along the Johnson Shear. Both projects show similar east-west strike and 45-55 degree dip to the North. The Linkwood Deposit was essentially re-discovered by the company using IP geophysics in early 2012. The project was originally identified and partially outlined by drilling in the 1980's by Sherritt Gordon.
To view the Burnt Timber and Linkwood Deposit Area, please visit the following link:
http://media3.marketwire.com/docs/CGJfig1.pdf
.
The Linkwood deposit has been identified over an 800 metre strike length through the diamond drilling program completed in 2012. The deposit remains open in all directions. The geological formation that contains the mineralized zones is estimated to have a true thickness of approximately 140 metres. The formation lies at a dip of approximately 50 degrees to the north with an east-west strike. Within this geological formation there have been 7 separate continuous gold bearing mineralized zones outlined. The thicknesses of these various individual gold mineralized zones are locally variable in width up to 25 meters, and average 8.5 metres in width at the resource scale. All zones are open to depth. The resource estimate done by P&E Geological Consultants was constrained within the confines of a whittle pit with the gold resource bearing zones outlined from surface down to a depth of 160 metres.
To view the Carlisle Goldfields Linkwood Project, please visit the following link:
http://media3.marketwire.com/docs/CGJfig2.pdf
.
The Linkwood Resource estimate is the third such report that Carlisle has reported in less than a year. See below in "About Carlisle" or look on
www.sedar.com
dated March 13th and September 24th 2012. Management is confident that the Company will report two more additional resource estimates before the end of the 2nd Q 2013 on Last Hope Project and the Farley Lake Project.
QA/QC
The mineral resource estimate on the Linkwood Deposit was undertaken by P&E Mining Consultants Inc. ("P&E") for Carlisle under the supervision of Eugene Puritch, P.Eng., President of P&E, who is a Qualified Person as defined by NI 43-101 with more than 30 years of experience in exploration and development of gold projects. All technical information contained in this news release has been reviewed and approved by Mr. Puritch.
Carlisle's exploration programs are carried out under the supervision of Peter Karelse P.Geo., Vice-president of Exploration, who is a qualified person as defined by NI 43-101 with more than 30 years of experience in gold exploration and development.
Samples were transported directly in secure containers from the Carlisle Goldfields site in Lynn Lake Manitoba, to the TSL Laboratories in Saskatoon, Saskatchewan. TSL, which is an accredited ISO/IEC 17025 lab assayed the samples using standard fire assay methods with a gravimetric finish. Certified standards are placed in the sample stream at a rate of one standard per 20 samples. Certified blanks are placed in the sample stream at a rate of one blank every 40 samples.
The contents of this press release have been reviewed and approved by Peter Karelse, P.Geo. and Eugene Puritch, P.Eng. of P&E, both qualified persons as defined under Instrument NI 43-101.
To view the Carlisle Goldfields Property Location Map, please visit the following link:
http://media3.marketwire.com/docs/CGJfig3.pdf
.
About Carlisle: Carlisle Goldfields Limited is a Canadian-based gold exploration and development company, focused on development of its mining leases and claims in the Lynn Lake Greenstone Belt of Northern Manitoba, covering approximately 20,000 hectares which include the former MacLellan Gold mine and two other former producing gold mines as well as numerous other historically identified Gold Zones all within close distance of the town of Lynn Lake.
In March 2012 (see News Release dated March 13, 2012), Carlisle announced an updated Resource Estimate on its MacLellan Gold Project in Lynn Lake, Manitoba. This included Open Pit and Underground Resources in the Measured and Indicated Categories having increased to 32.4 million tonnes containing 2,018,100 ounces of AuEq at an average grade of 1.94 g/t AuEq (1.9 g/t Au and 4.4g/t Ag). The pit-contained Measured and Indicated categories of 29.9 million tonnes contain 1.7 million ounces of AuEq at an average grade of 1.8g/t AuEq (1.7 g/t Au and 4.4g/t Ag). The current Measured and Indicated Categories represent 94% of this total resource estimate.
In September 2012 (see News Release dated September 24, 2012), Carlisle announced its initial Burnt Timber Project Inferred Resource estimate totaling 23,438,000 tonnes containing 780,500 ounces of gold ("Au") at an average grade of 1.04 grams per tonne ("g/t"). The Indicated Resource is estimated to be 1,021,000 tonnes containing 45,900 ounces of gold at an average grade of 1.40 g/t. The Company's new resource estimate used a 0.4 g/t cut off to a depth of 170 metres from surface.
This press release shall not constitute an offer to sell or solicitation of an offer to buy the securities in any jurisdiction. The Company's shares and other securities have not been and will not be registered under the United States Securities Act of 1933 and may not be offered or sold in the United States absent an applicable exemption from the registration requirements.
Except for statements of historical fact contained herein, the information in this press release may constitute "forward-looking information" within the meaning of Canadian securities law. Other than statements of historical fact, all statements are "forward-Looking Statements", including the establishment and estimate of resources, that involve various known and unknown risks and uncertainties and other factors. There can be no assurance that such statements will prove accurate. Results and future events could differ materially from those anticipated in such statements. Readers of this press release are cautioned not to place undue reliance on these "forward-looking statements". Except as otherwise required by applicable securities statutes or regulation, Carlisle expressly disclaims any intent or obligation to update publicly forward-looking information, whether as a result of new information, future events or otherwise.
Neither IIROC nor the TSX accepts responsibility for the adequacy or accuracy of this release.


Contacts:
Carlisle Goldfields Limited
Bruce Reid
President and Chief Executive Officer
647-500-4495
br@carlislegold.com

Carlisle Goldfields Limited
Carl McGill
Vice President, Corporate Development
416-278-8406
cmcgill@carlislegold.com

Carlisle Goldfields Limited
2702 - 401 Bay Street
Toronto, Ontario, Canada
info@carlislegold.com
www.carlislegold.com