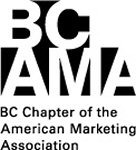 VANCOUVER, BRITISH COLUMBIA -- (Marketwire) -- 01/15/13 -- Join us on January 31, 2013 as the BC Chapter of the American Marketing Association (BCAMA) once again gathers Vancouver's top agencies to discuss 2013 advertising trends. Returning from last year are DDB and Wasserman, and new for this year are Station X and Cossette. Clair Booth will reprise her role as moderator once again this year.

Each speaker will present their views on the upcoming trends and we will follow that up with a lively panel discussion. We are expecting conversations around branding, marketing and communications.

About our experts:

Lance Neale

President and CEO, Station X

Lance created Station X by bringing together an accomplished, international award-winning team from across a variety of industries. The result is an integrated marketing agency that brings art, technology, strategy, and science together to help brands tell their story, while at the same time, drive growth. Station X has helped top companies such as Bell Aliant, Call2Recycle, Colligo, Corix, Everything Wine, go2, Investment Planning Counsel, Manteo Resort, Mark Anthony Group, Mercedes-Benz, Nesters Food Market, and Sea to Sky Highway build deeper, more profitable relationships with their customers.

Lance has 25 years of leadership experience with marketing, advertising, technology, and media organizations. Before moving into integrated marketing and technology services, Lance helped lead Transcontinental Media to become one of Canada's largest publishers in magazines, newspapers, and digital brands.

Alvin Wasserman

President, Wasserman and Partners

Alvin is President of the largest full-service advertising agency in BC. Having worked on major accounts in retail, packaged goods, travel, communications, entertainment, union, public sector and social marketing, he has helped shape some of BC's best known brands across the country. Under his guidance, Wasserman and Partners has been recognized by Forbes as one of the 100 Global Agencies that get Social Media and Google.

Alvin holds an Honours BA English from Concordia University and a Master of Arts in Literature from McMaster University. He makes a mean homemade pizza from scratch and has pledged to give up bit torrents as a new year's resolution. You can follow him on twitter (@alvinwasserman) or find him at Whistler when there's fresh powder.

Lance Saunders

Executive Vice President, Managing Director, DDB Canada, Vancouver

Lance is known best for his innovative thinking and drive to uncover insights that inspire breakthrough ideas. At DDB Canada, he works in concert with the agency's account leaders, strategic planners, media experts and creative teams to determine the most effective approach for any given business challenge. As the former Executive VP/Director of Strategic Planning at Campbell Mithun in Minneapolis, Lance provides a fresh perspective to Vancouver by providing clients with creative brand messaging across all channels. An exceptional marketer, he has provided strategic planning expertise to many top brands across many categories, including tourism, packaged goods, retail, financial services, beverage and telecommunications.

As a sought after thought leader, Lance has spoken at various Canadian universities and colleges and is an annual instructor at the Miami Ad School on planning, brand positioning, research and ideas.

Ute Preusse

Director of Strategic Planning, Cossette Vancouver

Ute joined Cossette Vancouver 5 years ago. This role allows her to develop brand and campaign strategies for clients including The Gap, BCLC, Sauder School of Business, Aboriginal Peoples Television Network, the Government of Alberta, and Royal Roads University.

Over the past decade Ute has worked in several countries and with a variety of international, high profile brands on both the client and agency side. In the early stages of her career she has had the opportunity to work for the Adidas Headquarters in Germany and Fitch London, prior to relocating to the Middle East to consult as a Brand Director for an international sporting events specialist. Ute's experience was utilized in establishing a global brand strategy division with a focus on pitching fully integrated branding solutions to international sporting events, including the Doha Asian Games, Beijing Summer Olympics, South Africa FIFA World Cup and the Vancouver Winter Olympics.

Claire Booth (Moderator)

President, Lux Insights

Claire is the owner of Lux Insights, a full-service market research agency. With over a dozen years of experience, Claire is an expert in both qualitative and quantitative research. Prior to starting Lux, Claire was a Senior Vice President at Ipsos-Reid, responsible for developing and running their business in Seattle. With her extensive experience she has moderated hundreds of focus groups across Canada and the US.

Throughout her career, Claire has been a strong supporter of the AMA. She is currently President of the Past Presidents' Council at BCAMA, was the 2010 Vision Conference Chair and is past-President of the Seattle AMA Chapter. Claire has an MA from Carleton University, half a PhD from UBC and is an occasional instructor at Capilano University's School of Business.


WHEN: Thursday, January 31, 2013 7:00 - 9:00amWHERE: Coast Coal Harbour Hotel: 1180 West Hastings Street, Vancouver, BC V6E 4R5
For more event information please visit
www.bcama.com/events/breakfast-speaker-series
.
Register
online
or call 604.564.1AMA (1262).
Visit the BCAMA
website
Follow BCAMA on
Twitter
and
Facebook


Contacts:
BCAMA Media Contact:
Sabrina Santoro
BCAMA Director of Communications
778.908.3960
ssantoro@hotmail.com
www.bcama.com