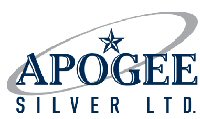 TORONTO, ONTARIO -- (Marketwire) -- 01/15/13 -- Apogee Silver Ltd. ("Apogee" or the "Company") (TSX VENTURE: APE) announces that the Company received US$ 609,000 representing approximately 85% of the gross proceeds for the delivery of over 95 dry tonnes (DMT) of lead-silver and 99 DMT of zinc-silver concentrates, following its successful custom milling, bulk-scale flotation tests undertaken on mineralized material from the Pulacayo Deposit. The concentrate was sold to Consorcio Minero S.A. (Cormin), a wholly-owned subsidiary of the Trafigura Group. The outstanding balance of payment is expected early in 2013 once final analysis of the concentrates is completed.

Apogee's CEO Neil Ringdahl stated, "Another major milestone for Apogee has been achieved with the production of salable concentrate at a commercial scale from the Pulacayo deposit. On the eve of producing a feasibility study for a robust, commercial scale mine at Pulacayo, the Company has demonstrated its ability to successfully conduct trial mining and processing operations in partnership with the Pulacayo Cooperative, and with the support of local communities and other stakeholders."

The lead-silver concentrate was produced under a custom milling contract at the la Estrella concentrator near Potosi in Bolivia during November 2012. La Estrella is one of three concentrators being used in the area for custom toll milling and bulk-scale test work of mineralized material from Pulacayo. It is expected that concentrates produced from the other two mills, namely, the FEDECOMIN and Tatasi concentrators will be shipped this quarter. The proceeds received by the Company from the sale of concentrates are net of shipping costs. As per the statutory requirements in Bolivia, metal export royalties have already been paid in advance (6% for silver and 5% for lead). NSR royalties related to the underlying agreements of the property (1.5% to the Pulacayo Cooperative and 2.5% to the Corporation Minera de Boliva (COMIBOL)) are payable once final analysis and payment is made by Cormin. Preliminary concentrate grades for the material shipped are provided in Table 1.


Table 1: Preliminary grades of concentrates produced at La EstrellaConcentrator -------------------------------------------------------------------- Concentrate Dry Metric Tonnes Ag (g/t) Pb (%) Zn (%) -------------------------------------------------------------------- Lead 95 5,865 59.83 -------------------------------------------------------------------- Zinc 99 1,233 40.9 --------------------------------------------------------------------
About Apogee Silver Ltd.
Apogee Silver Ltd. is a mineral exploration and development stage company listed on the TSX Venture Exchange under the symbol APE. Apogee targets advanced silver-zinc-lead projects in South America that demonstrate potential to be developed to production. Currently its projects are located in the historic silver producing regions of southwest Bolivia and northern Chile. There are currently 301,066,809 common shares of Apogee issued and outstanding.
Apogee's most advanced project is the 100% controlled Pulacayo-Paca project in Bolivia. This project includes the property that covered the second-largest silver mine in the history of Bolivia with a historical estimate of over 600 million ounces of past production.
Cautionary Note Regarding Forward-Looking Information and Mineral Resources:
Except for statements of historical fact contained herein, the information in this press release may be deemed to constitute "forward-looking information" within the meaning of Canadian and other applicable securities law. Such forward-looking information may include, but is not limited to, statements with respect to anticipated timing of the feasibility study and the mineral resource estimate, the potential effect of the metallurgical results, the impact and anticipated timing of future metallurgical results, potential effect of the toll milling and trial mining process and impact upon the future development of any property, the future financial or operating performance of the Company, its subsidiaries and its projects, the development of and the anticipated timing with respect to the Pulacayo-Paca project, the current drill program, anticipated timing with respect to the trial mining program and statements regarding exploration prospects. Generally, forward looking information can be identified by the use of forward-looking terminology such as "plans", "expects" or "does not expect", "is expected", "budget", "scheduled", "estimates", "forecasts", "intends", "anticipates" or "does not anticipate", or "believes", or variations of such words and phrases or state that certain actions, events or results "may", "could", "would", "might" or "will be taken", "occur" or "be achieved". Forward-looking information is subject to known and unknown risks, uncertainties and other factors that may cause the actual results, level of activity, performance or achievements of the Company to be materially different from those expressed or implied by such forward-looking information, including but not limited to: general business, economic, competitive, geopolitical and social uncertainties; the actual results of current exploration activities; other risks of the mining industry and the risks described in the annual information form of the Company. Although the Company has attempted to identify important factors that could cause actual results to differ materially from those contained in forward-looking information, there may be other factors that cause results not to be as anticipated, estimated or intended. There can be no assurance that such information will prove to be accurate, as actual results and future events could differ materially from those anticipated in such statements. Accordingly, readers should not place undue reliance on forward looking information. The Company does not undertake to update any forward-looking information, except in accordance with applicable securities laws. It should also be noted that mineral resources that are not mineral reserves do not have demonstrated economic viability.


Contacts:
Apogee Silver Ltd.
Marilia Bento
Vice President Corporate Development
+1 (416) 309-2694
info@apogeesilver.com

Apogee Silver Ltd.
Neil T. Ringdahl
Chief Executive Officer
+1 (647) 339-4484
info@apogeesilver.com
www.apogeesilver.com