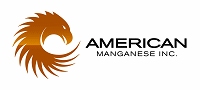 VANCOUVER, BRITISH COLUMBIA -- (Marketwire) -- 01/15/13 -- Larry W. Reaugh, Chief Executive Officer of American Manganese Inc. ("American Manganese" or the "Company") (TSX VENTURE: AMY)(PINKSHEETS: AMYZF)(FRANKFURT: 2AM), reports on American Manganese's 2011 and 2012 programs and managements plans relating to future development of the Artillery Peak Project.

Future Plan

Since the pre-feasibility study management has been studying ways to maximize their resources at Artillery Peak as follows:


a.  Address the opportunities to reduce capital expenses (capex) and    operating expenses (opex) which include production of electrolytic    manganese dioxide (EMD) or chemical manganese dioxide (CMD). Only 60% of    manganese metal is used to produce an equivalent amount of EMD or CMD to    EMM (100%) significantly reducing the footprint and positively affect    the capex and opex. Production of CMD eliminates the requirement for    electrolytic cells.b.  The Company has identified areas to explore where the potential to    increase the manganese grades exists such as:--  Wildcat drill hole AP-11-133 was drilled in the upper Shannon located 4    km west of manganese mesa and returned 7.62 meters grading 7.39% Mn.--  Wildcat diamond drill hole #ADH-25 was drilled 1.6 km south and east of    Loves Mine and returned 24.39 meters of 4.34% Mn.    The Company will evaluate these targets which have the potential to host    higher grades thereby possibly further reducing the overall foot print    of the mill site and mining operations. Other areas on the property like    the Maggie Canyon also host the potential for higher grades of    manganese.--  Focus on the criticality of manganese to the U.S. Government and various    potential end users.--  Continue the dialogue with potential off-takers that have shown an    interest in the manganese metal and dioxide market.--  The elimination of the electrolytic cells by focussing on research and    development of CMD could reduce the electrical requirements by up to 75-    80%.--  Reducing the amount of production (25 - 40,000 Ts/year) of manganese    dioxide product potentially reducing capex for mining and processing.--  American Manganese's cost of production is one of the lowest in the    world.
Review
1.  10,607 meters (34,800 ft) of reverse circulation drilling in 84 holes    (2011 program) was completed in the North Chapin, Lakes/MacGregor area    resulting in the following Ni43-101 resource at a 1.0% Mn cut-off:                  ------------------------------------------------------                                               Average         Contained                         Resource (T)        Grade Mn%       Mn Metal (T)------------------------------------------------------------------------Indicated                 62,201,000              2.3%         1,445,000------------------------------------------------------------------------Inferred                  20,033,000              2.5%           506,000------------------------------------------------------------------------
Previous drilling and Ni-43-101 resource studies identified additional reported resources on the Maggie Mine/Shannon Mine/Loves/Hurley/Planche/South Chapin/Burro/Price and Priceless zones at a 0.9% Mn cut-off as follows:
                  ------------------------------------------------------                                               Average         Contained                         Resource (T)        Grade Mn%       Mn Metal (T)------------------------------------------------------------------------Indicated                145,575,196             2.98%         4,279,000------------------------------------------------------------------------Inferred                  54,700,239             2.83%         1,547,000------------------------------------------------------------------------