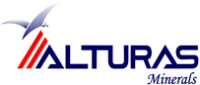 TORONTO, ONTARIO and LIMA, PERU -- (Marketwire) -- 01/15/13 -- Alturas Minerals Corp. (the "Company" or "Alturas") (TSX VENTURE: ALT)(LMA: ALT) announced today that it has entered into a second amendment of a letter agreement with Minera IRL Limited ("IRL"), a Jersey-registered company listed on the Toronto Stock Exchange, the London AIM market and the Lima Stock Exchange ("IRL"), regarding the adjacent Utupara and Chapi Chapi properties within the Huaquirca copper-gold district in south-eastern Peru ("Huaquirca Joint Venture).

The amendment modifies an earlier letter agreement announced by the Company on June 2, 2010 and grants Alturas extensions of the terms within which to complete its exploration commitments at the Huaquirca property block. Under the amended agreement Alturas has the option to earn an 80% interest in the Huaquirca Joint Venture by resuming exploration drilling no later than June 30, 2013 and completing a further 9,502 meters of drilling on the Chapi Chapi Property and completing a scoping study on any potential discovery before December 31, 2013.

Miguel Cardozo, President and CEO of Alturas commented: "We are pleased to have renegotiated the terms of the Huaquirca Joint Venture with IRL, and look forward to continue exploration drilling on this highly prospective district. Previous drilling of 5,498 meters completed by Alturas in the Chapi Chapi area in 2012 identified strong copper-gold-silver-molybdenum mineralization in the form of porphyry, skarn and replacement ore bodies. A second drilling program of 9,502 meters aimed to complete the 15,000 meters committed by Alturas is planned to start on April 2013 subject to community, environmental permits and financing."

Under the Letter Agreement and its two Amendments, the two parties propose a Joint Venture ("Huaquirca Joint Venture") covering the combined Chapi Chapi-Utupara properties, with IRL contributing the Chapi Chapi property and Alturas contributing the adjacent Utupara property.

Once Alturas has fulfilled its obligations and have earned an 80% interest in the Joint Venture, both parties would contribute pro-rata according to their percentage interests, subject to usual dilution. If IRL were to dilute below 20% interest it could convert that part of its interest to a 2% NSR. If IRL were to further dilute its interest to below 10%, it would be entitled to an additional 1% NSR (for a total 3% NSR in consideration of its 20% interest). The NSR is subject to a total buyout for US$ 5 million at Alturas's option.

About the Huaquirca copper-gold district

The Huaquirca copper-gold district is situated in the department of Apurimac in southern Peru, within the emerging Apurimac-Cusco porphyry-skarn belt of southeastern Peru. The 6,903 hectare Chapi Chapi property block is immediately adjacent to Alturas' 5,276 hectare Utupara property. Together the two projects now comprise a larger joint venture area ("Huaquirca Joint Venture") between Alturas and Minera IRL Limited.

The limestones in the Huaquirca District are part of the same unit (Ferrobamba Formation) that hosts world-class skarn deposits in the Apurimac-Cusco porphyry-skarn belt, such as the Tintaya and Las Bambas copper-gold skarn projects of Xstrata. The quartzite sandstone unit (Hualhuani Formation) also hosts a significant copper oxide resource at the nearby Antilla project of Panoro Minerals, situated some 10 kilometers to the west. The Los Chancas copper porphyry deposit (in feasibility stage by Southern Copper Corporation) is hosted by a similar intrusive complex located 20 kilometers north of the Huaquirca District and the Trapiche copper porphyry exploration project of Buenaventura occurs 15 kilometers to the south.