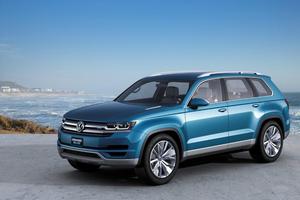 The Volkswagen CrossBlue SUV concept.



WOLFSBURG, GERMANY and DETROIT, MI -- (Marketwire) -- 01/14/13 --


•Six-seater mid-size SUV concept designed specifically for North America •Innovative diesel-electric plug-in-hybrid powertrain offers manufacturer estimated fuel economy rating of 35 mpg combined, 89 mpge in electric mode •Concept is built off the Modular Transverse Matrix (MQB) components set •Range in all-electric mode is up to 14 miles •305 horsepower; 516 pound-feet of torque; 0 to 60 mph estimated at 7.2 seconds •Sophisticated, spacious, flexible, and elegant interior space •Exterior is a marriage of clean, timeless Volkswagen design language with the masculine character of an American SUV

The versatile CrossBlue SUV concept that is making its global debut at the North American International Auto Show was developed specifically for the U.S. and Canada. If it goes into production, the CrossBlue would flesh out the Volkswagen SUV lineup with a seven-seat midsize crossover that slots in above the Tiguan and below the premium Touareg.

The CrossBlue features a highly innovative plug-in hybrid powertrain that mates a TDI® Clean Diesel engine with two electric motors, a DSG® dual-clutch automatic transmission, and an electric all-wheel-drive system that is dubbed "propshaft by wire." Volkswagen's manufacturer estimated fuel economy rating is 89 mpge combined in electric mode and 35 mpg as a hybrid. As well as offering excellent economy for a mid-size crossover SUV, the CrossBlue has impressive performance from a powertrain that produces up to 305 horsepower and 516 pound-feet of torque: 0 to 60 mph is estimated to take just 7.2 seconds.

The CrossBlue runs in zero emissions mode either at the press of a button or automatically. With a fully charged 9.8kWh lithium-ion battery, the CrossBlue can travel a distance of 14 miles in all-electric mode; to achieve optimal driving range, the top speed is reduced from 127 mph to 75 mph. The overall driving range is 661 miles if the 18.5-gallon fuel tank is filled with ultra-low-sulfur diesel fuel.

The CrossBlue concept, which boasts six individual seats, combines the visual impact of an SUV with the spaciousness and flexibility of a minivan. With a comfortable highway ride, good all-around visibility, and a full raft of safety features that includes up to 12 airbags, the concept car is a spacious and safe cruiser.

The CrossBlue was designed in Germany under the leadership of Walter de Silva (Head of Design, Volkswagen Group) and Klaus Bischoff (Head of Design, Volkswagen Brand), in close coordination with Volkswagen of America. The vehicle merges the clean lines of German Volkswagen design DNA with the masculine character of an American SUV. This results in a very realistic vehicle that eschews showcar gaudiness to give a glimpse at a potential new Volkswagen SUV.