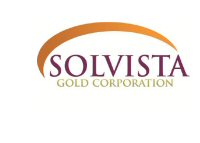 TORONTO, ONTARIO -- (Marketwire) -- 01/14/13 -- Solvista Gold Corporation ("Solvista" or the "Company") (TSX VENTURE: SVV)(OTCQX: SVVZF) is pleased to announce the results from its Phase 1 drill program at its Guadalupe Project, located 150 km northeast from its exciting Caramanta Project. The results confirm the high-grade gold-silver discovery at El Oso and support the Company's belief that the Guadalupe Project could host significant, structurally-controlled, gold-silver mineralization. Guadalupe is Solvista's second project and is separate from its Caramanta Project, where the Company has been drilling since June 2012 and on September 17, 2012 (http://www.solvistagold.com/news/2012/september17/) announced the discovery of porphyry-style, gold-copper mineralization. The Company has now confirmed the presence of gold mineralization on both its Caramanta and Guadalupe Projects in just over 18 months after becoming a public company, and is very pleased to have two projects that could generate significant shareholder value going forward through 2013.

Highlights


--  Two drill holes were completed on the El Oso 2 target, 150 metres apart,    and returned 18.35 g/t gold (Au) over 2.77 metres in GUD-1214 and 9.29    g/t Au over 1.92 metres in GUD-1213;--  Four drill holes were completed on the El Oso 1 target, over 750 metres    of strike length, and returned 6.25 g/t Au over 0.99 metres in drill    hole GUD-1209 and 3.02 g/t Au and 169.77 g/t Ag over 2.10 metres in GUD-    1211;--  Positive results also intersected on other target areas where more    drilling is warranted.
Commenting on the drill results, Solvista's President and CEO Miller O'Prey stated, "We are very happy to be announcing the results from the initial drill program at the Guadalupe Project. This program was designed to test a number of anomalous areas within the large Guadalupe Project, as well as to enhance the Company's understanding of the geology and controls on mineralization in an area of little outcrop. In the El Oso area we have now proven the existence of two discrete, parallel structural trends, up to 750 metres long (in the case of El Oso 1), as well as identified mineralization not seen at surface. Within these structural trends it appears that multiple mineralized structures are present."
The exploration plans for the Guadalupe Project during 2013 include:
--  Definition of a Phase 2, follow-up drill program to define the nature    and extent of mineralization identified in Phase 1;--  Ongoing regional exploration across the northern portion of the property    to identify new drill targets.
Details
The Guadalupe Project Phase 1 drill program was completed during 2012 and comprised 14 drill holes, two of which did not reach their target depth and had to be re-drilled, for a total of 3,060 metres. In total, five distinct target areas were tested over a 3 x 2 kilometre area in the southern portion of the Guadalupe Project.
El Oso 2
Drill holes GUD-1213 and GUD-1214 were drilled to test the down dip continuity of the high-grade, gold-silver mineralization discovered at surface within the El Oso 2 structural trend (21 samples with a weighted average of 14.27 g/t Au, 6.6 g/t Ag, using a 50 g/t Au upper cutoff), the southernmost zone within the structural corridor in the El Oso area (see Figure 1). Both drill holes, located 150 metres apart, intersected the targeted mineralization with drill hole GUD-1214 intersecting 18.35 g/t Au and 2.7 g/t Ag over 2.77 metres (see Figure 2) and drill hole GUD-1213 intersecting 9.29 g/t Au over 1.92 metres. Mineralization is typically epithermal-style composite quartz-sulfide veins and sulfide bearing breccias and remains open both along strike and down dip. This target is considered the highest priority for additional drilling.