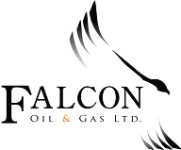 TORONTO, ONTARIO -- (Marketwire) -- 01/14/13 -- Falcon Oil & Gas Ltd. (TSX VENTURE: FO), (Falcon or the "Company") the Toronto listed and Dublin headquartered company focused on unconventional oil and gas exploration and production in Hungary, Australia and South Africa, announces that further to its press release dated July 31, 2012, its Hungarian subsidiary TXM Oil and Gas Exploration LLC has executed the agreement in relation to a significant exploration program with NIS, a Serbian oil and gas company in which JSC Gazprom Neft has a 56% stake (the "Transaction").

Transaction Summary


--  NIS to drill three exploration wells targeting the shallow "Algyo Play"    reservoir--  Falcon to be fully carried on the drilling and testing estimated to cost    a minimum of $20m--  NIS to make an immediate cash payment of $1.5m to Falcon--  Drilling preparations are already underway--  Falcon and NIS expect to commence drilling the first well by the end of    March 2013--  Second and third wells likely to be completed by the end of Q3 2013--  NIS to earn 50% of any net production revenues from the 3 wells--  Falcon to retain 100% in the "Deep Mako Trough" potential below the    Algyo
The Algyo is a relatively shallow play between 2,300m and 3,500m. A number of Falcon wells have been drilled through the Algyo in recent years, some of which encountered gas shows, but to date no well has ever tested the play concept at an optimal location as previous wells targeted deeper intervals of up to 6,000m.
Multiple Algyo prospects have subsequently been identified by Falcon through extensive AVO analysis and the upcoming exploration drilling program with NIS will be targeting three separate high-graded prospects.
Under the terms of the Transaction, NIS shall drill three exploration wells targeting the "Algyo Play" within the Company's Mako Trough production licence in the Pannonian Basin, Hungary. NIS will earn, after undertaking the 3 well drilling obligation, 50% of the net production revenues from the 3 wells drilled. In addition, NIS will have an option to acquire a right of first negotiation for future drilling operations in the "Algyo Play", sharing any potential future costs and revenue 50:50 with Falcon. Falcon will still retain 100% interest in the "Deep Mako Trough".
Preparation for drilling operations is already underway and the Falcon and NIS are planning to drill the first of the three wells before the end of March 2013, subject to normal regulatory approvals.
Philip O'Quigley, CEO of Falcon commented:
"We are delighted to have successfully executed our Agreement with NIS and we can now look forward to the start of a multi-well exploration drilling program in Hungary. We are pleased to have NIS as a partner and look forward to our cooperation with them which has the potential to expand further in the region. Hopefully, this is part of a series of deals that will see multi-well carried drilling programs being carried out across our portfolio in the near future."
About Falcon Oil & Gas Ltd.
Falcon Oil & Gas Ltd. is an international oil and gas exploration and production company, Toronto listed under the symbol "FO". It is headquartered in Dublin, Ireland, with offices in Budapest, Hungary.